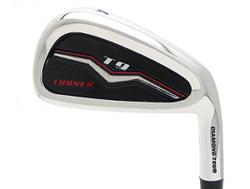 Saint Joseph, MI (PRWEB) March 22, 2010
The new Turner T9 iron golf clubs offer a classic shape with ultra game improvement technology. The No. 3 through No. 5 irons have a deep internal perimeter weighting system that allows for true forgiveness and better control than other long irons. The No. 6 iron through wedges utilize a deep cut rear channel that optimizes trajectory, yet has plenty of forgiveness. The sole reduces turf resistance for better ball contact throughout the entire set. All the irons are manufactured from 431 stainless steel and polished to a mirror finish.
The combination set includes the No.3 and No. 4 ultra game improvement hybrids and the No.5 through pitching wedge irons which are the cavity-back design with deep perimeter weighting.
Also available as individual selections are a 50 degree auxiliary wedge, a 56 degree sand wedge and a 60 degree lob wedge.
The T9 model is available immediately and is currently being offered at introductory sale pricing.
###