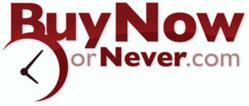 We are seeking charities that want to partner with us. Giving back is one of our core values. As a young company we are really excited that we have reached a point where this is possible.
St. Louis, MO (PRWEB) September 27, 2012
Online discount retailer BuyNoworNever.com is seeking charities in an effort to give back to the community and help these organizations receive much-needed funding. BuyNoworNever.com will give10% of all sales generated by the organization back to the charity. Charities are given a unique promotion code for their supporters to use.
By forming these partnerships with non-profit charities, BuyNoworNever.com hopes to help consumers feel confident that 10% of their shopping dollars are going directly to these organizations. On top of donating to a worthy cause, consumers can take advantage of the online retailer, BuyNoworNever.com's everyday low prices and stock up on their favorite handbags, jewelry and even home furnishings.
BuyNoworNever.com wants to encourage charitable organizations to inquire directly at custservice(at)buynowornever(dot)com or by calling 314-567-4434. As a consumer please feel free to forward this contact information to the Charity of your choice.
About BuyNoworNever.com
Founded in 2010, BuyNoworNever.com is an online store that sells authentic designer handbags, jewelry, watches, women's accessories, home furnishings, rugs and luggage at discounted prices up to 80 percent off retail price. BuyNoworNever.com offers a Low Price Guarantee and a 30-day return policy. To be notified of the latest special offers and promotions, sign up for emails on BuyNoworNever.com, 'like' us on Facebook or follow us on Twitter at twitter.com/buynowornever.
For more information visit our website at http://www.BuyNoworNever.com