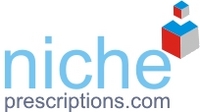 Atlanta, GA (PRWEB) July 14, 2009
As unemployment rises and many Americans find themselves without health insurance and prescription drug coverage as a result of the perilous economic climate, locating an affordable avenue by which to obtain prescription drugs has become essential. Hadelman & Associates, Inc., d/b/a Niche Prescriptions announces the launch of a new program offering prescription drug discount cards for consumers of all ages and economic backgrounds. Further, many self employed or small group employers chose very high deductible health plans. The employers need to find Niche Prescriptions to lower the cost of drugs for their employees so they may apply that cost to their high deductible plans.
The discount prescription card made available by Niche Prescriptions gives consumers access to the lowest cost prescriptions in the United States. More than 8,400 drugs are available at or under $4, with more than 47,000 under $50.
"It is our goal to provide the lowest cost prescriptions to the consumer in the United States," said Niche Prescriptions President Martin Hadelman. "We want to be able to help the uninsured, those consumers with high deductible health plans, and those with limited health plans that need excellent prescription drug coverage."
For access to the prescription drug discount card (offered as a single, two party or family card), consumers can visit the nicheprescriptions.com website, where they will be led through a series of easy steps to help them sign up for discount prescription card access. The site is easy to navigate, provides the full range of potential questions and answers, and easy access to customer service help from the company's expert representatives.
There are No Deductibles, No Waiting Periods, No Pre-existing Conditions and everyone qualifies.
The Niche Web Site will offer a drug pricing tool that allows a Niche Discount Member to find the discounted price of the drug at a given pharmacy. The pricing tool will be available online in two weeks. Until the pricing tool is available the member can call or email to find out the exact price if the tiers are not sufficient.
Prescription drugs available with the prescription card fall under four pricing tiers. The site allows consumers to search for their specific prescriptions in order to find out which of the following tiers they fall into:

Tier 1: $10 or less
Tier 2: $20 or less
Tier 3: $50 or less
Tier 4: Drugs that do not fall in any of the above tiers. Consumers will receive an average discount of 25% for name brand drugs or an average discount of 52% for generic drugs
Hadelman said, "People will be surprised at the amount of savings they'll experience using the Niche Prescriptions discount prescription card. We offer special programs, including a Diabetic plan, and provide a full money back guarantee if consumers are not satisfied within 30 days. It is important to us our customers get the prescription drugs they need at the lowest possible cost."
For more information, or to sign up for the new prescription card program, visit nicheprescriptions.com.
About: Hadelman & Associates, Inc., d/b/a Niche Prescriptions:
Niche Prescriptions, visible online at nicheprescriptions.com, provides consumers the opportunity to save money on prescriptions while earning membership rewards. Guaranteed risk free, Niche Prescriptions helps people save up to 70% on brand name and generic drugs. These prescriptions are accepted at more than 62,000 pharmacies in the United States.
###