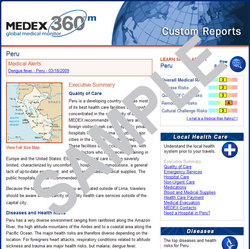 While you definitely have cases involving patients with a history of cardiac trouble or an adventure traveler who falls, there are just as many emergencies caused by factors outside of an individual's control
Baltimore, MD (Vocus) March 31, 2009
American travelers who continue travel spending in a down economy should prepare for unexpected medical and security situations that could wipe out any money saved on their bargain vacation. Old and new destinations offering steep discounts may carry risks that travelers won't find advertised.
"In many small islands and less-developed countries medical care is below international standards," warns Linda McGee, President of MEDEX Insurance Services. "Coupled with high disease risks and unyielding costs for emergency evacuation, unprepared travelers could face expenses that more than outweigh any discount obtained during booking."
Since the beginning of the year, MEDEX has experienced notable increases in traveler medical assistance cases for high-risk destinations. "Our cases for Peru have doubled compared to this same time period last year," explains McGee, "And this is in a country where there is a current outbreak of Dengue Fever - a very serious medical threat."
Other locations such as Mexico - commonly accepted as a great value due to the strength of the U.S. dollar - are suffering from concerns over security and political instability. Medical emergencies can often be the result of a traveler caught at the wrong place at the wrong time, such as during a protest-turned-riot. In fact, many of MEDEX's cases are not caused by a traveler's poor health condition or their engaging in risky activity.
"While you definitely have cases involving patients with a history of cardiac trouble or an adventure traveler who falls, there are just as many emergencies caused by factors outside of an individual's control," says Susan Torroella, COO for MEDEX. "These are situations travelers can't necessarily prevent - like your taxi getting in a car accident."
When travelers get injured in a foreign country, they can face severe financial implications and have difficulty finding quality care. Medicare does not pay for any medical expense overseas and most domestic policies will force travelers to pay upfront and then submit for their claim after returning home, if they cover overseas medical care at all. According to MEDEX experts, even when travelers are able to gather enough funds to pay for treatment, they often find themselves in facilities that are ill-prepared to diagnose or treat appropriately. Smaller Caribbean islands suffer a lack of physicians and equipment, and other popular destinations can only handle basic care. Serious injuries and conditions requiring emergency medical evacuation can cost as much as $25,000 or more to return a patient to the United States.
McGee offers this tip for travelers this year: "When you vacation in resort areas in the Caribbean or Central and South America this summer, be sure your great deal is not negated by a risk taken with your well-being. Research your destination before you go, and find a solid company from which to purchase your travel insurance policy." McGee also advises travelers to make sure the company offers more than just medical insurance, and that they can assist you during an emergency to find the right doctors and hospitals, monitor your care, assist with language barriers and provide up-front bill payment.
About MEDEX
MEDEX is the oldest and largest independently owned provider of global travel security and medical assistance in North America. All MEDEX travel medical insurance programs include 24-hour, multilingual support for everything from international prescription replacement to emergency medical evacuations. The MEDEX Emergency Response Center handles nearly 30,000 cases a year in over 200 countries. MEDEX Insurance Services offers policies for as little as $2/day and can include up to $500,000 in coverage for emergency medical expenses and evacuation. MEDEX 360°m Global Monitor reports include valuable travel health information for $8.95 per destination. For a travel insurance quote or more information, visit medexassist.com or call 866-888-1170.
Media contacts:
For more information or an interview with a MEDEX expert, please contact Nicole Beach, 410-453-6391, or Mike Roban, 410-453-6363.
# # #