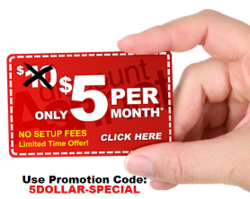 DiscountASP.Net Lifetime Discount 50% Off at $5/month.
(PRWEB) April 06, 2012
DiscountASP.Net, a professional ASP.NET hosting service provider, today announced to offer all the readers from HostUCan.com with a special 50% off on their award winning hosting solution. And according to the statement from HostUCan.com, this is a lifetime 50% off, which means when their customers renew the service, the price will still be $5/month.
DiscountASP.NET is a global leader in Windows shared hosting with data centers in both US and UK. Their asp.net hosting comes with all the latest cutting edge technologies of Microsoft, such as Windows Server 2008, IIS 7.0, .Net framework 1.1/2.0/3.5SP1/4.0, ASP.NET MVC 1/2/3, Silverlight 2/3/4. Unlike some other web hosts offer MS SQL Server Express edition, DiscountASP.NET supports local MS SQL Server Compact DB by default, and provides standalone MS SQL Server web edition on extra $10 for a month, which is much more scalable and reliable.
The regular price of DiscountASP.NET is $10/month, and now their customers could receive a 50% off at only $5/month withDiscountASP Coupon from HostUCan.com, which make DiscountASP.NET really very affordable.
DiscountASP.NET is Microsoft Golden hosting partner. In the past a few years, it has won numerous awards from publications such as Visual Studio Magazine, .NET Developers Journal, ASP.NET PRO Magazine, and CodeProject. It's also awarded as Best ASP.NET Hosting from WebHostingClue.com recently.
DiscountASP.NET guarantees 30 days money back to all their new customers.
To know more about DiscountASP, please refer to DiscountASP Review at HostUCan.com, where people could find the reviews from their customers, DiscountASP uptime report, and the latest DiscountASP news.
About HostUCan.com
HostUCan.com is a need-centric web hosting search and review platform. Their powerful products search engine could help webmasters find the best hosting solutions based on their hosting needs. HostUCan is also a place for webmasters to share their hosting experience and to seek information from other experts.