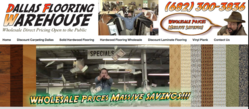 By leveraging massive buying power and selling direct we are offering carpeting, wood flooring and laminate floors at prices that can't be matched anywhere in North Texas
Dallas, TX (PRWEB) September 06, 2012
Dallas Flooring Warehouse "breaks virtual ground" announcing an interactive discount carpet Dallas and wholesale hardwood flooring website for Dallas Fort Worth TX Clients as development begins on large scale online initiative promoting wholesale flooring direct to the public.
The DallasFlooringWarehouse.com website will contain visual samples of a large inventory of flooring materials including hand scraped laminate flooring, nail down finish in place solid hard wood floors, commercial carpeting, apartment carpet and vinyl plank.
Dallas Flooring Warehouse carries many national brands of flooring from laminate flooring by Armstrong, Bella Cera, Décor Toscana, Faus Floor and Quick Step to hardwood flooring by Anderson, Bruce, Elbrus, Hartco, Johnson, Mannington, Mirage and Mullican as well as carpet by Dixie, Tufftex, Shaw, Kane, Masland, Fabrica, Courtisan and more.
Bill Ewing, wholesale flooring marketing strategist, says, "We are excited about this website launch. Soon customers in Dallas, Fort Worth and around the DFW metroplex will be able to browse our interactive hardwood flooring, laminate flooring and discount carpet image galleries online. We are also certain that once Dallas area clients realize that we have better prices than craigslist sellers and much better quality they will flock to our flooring warehouse facility in Dallas and browse through our multimillion dollars worth of on-site inventory.".
The website is being developed by DallasFlooringWarehouse.com partner, Christopher Oliver of the Christopher Oliver Agency.
Christopher Oliver, Dallas Flooring Warehouse website developer says, "This website is about enabling the average flooring shopper the same discounts enjoyed by large scale builders and large contracting firms. By leveraging massive buying power and selling direct we are offering carpeting, wood flooring and laminate floors at prices that can't be matched anywhere in North Texas. The mission of the website is to convey to buyers of discount flooring that there is a safer and better option than shopping on Craigslist where you never know what you are going to get. By showcasing the flooring materials on the website in interactive galleries prospective customers can see the materials and then come down to the warehouse and pick them up in person or have them installed as soon as the following day.".
For more information discounted flooring in Dallas, Fort Worth or anywhere in the DFW metroplex are visit dallasflooringwarehouse.com.