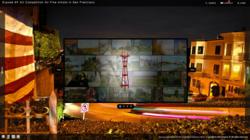 San Francisco, CA (PRWEB) May 31, 2012
Staff members at Vento Solutions has voiced their support for artists and other members of the art community through an initiative known as Expose SF Art.
In specific, Vento started its plan to promote visual and fine arts by committing itself to the revitalization of San Francisco's art scene through Expose SF Art, but it has not stopped there.
With the release of Expose SF Art's newest website, Vento Solutions also announced highly discounted web design, web development, and online marketing for artists, art students, or any business or individual involved with the arts in San Francisco.
"We know it's hard for those in the art community. We've allotted a certain amount of time to discounted web design for artists, art students, and anybody else involved with the art community," says a Vento Solutions spokesman.
The team is prepared to build fully customized website and online marketing plans for art galleries, art supplies stores, or individual artists from around the Bay Area.
Vento can create easily updatable portfolios for personal artwork, as well as captivating and visually stunning platforms from which to promote San Francisco's art related works, services, or stores.
Vento Solutions is a bi-coastal web design firm which has worked with clients ranging from non-profit organizations to biomedical to alcohol distribution. Based in New York City and San Francisco, the Vento team has managed both startup and enterprise-sized accounts from San Francisco to Hong Kong.
Vento's highly discounted web design offer will provide artists and art institutions with the chance to promote themselves at extremely affordable prices.
This offer comes as Expose SF Art unveils its new sleek site including a better SEO layout, improved user experience, and a natural user interface. Expose SF's design has incorporated imagery from a local photographer, although the site is still not ready and fully functional.
The site's social media-based competition is preparing to accept innumerous submissions from artists all over the San Francisco Bay Area.
Expose SF Art is an art competition of a new breed. Where previous art contests have been exclusively judged by a panel of art professionals, Expose SF functions under the assumption that the opinions of art critics and experts are as important as art enthusiasts and fans.
The competition is set to occur in multiple stages. First, the Expose SF Art competition site will go completely live, and artists will be able to digitally submit their artwork to the online portion of the contest. Artists' fans and art enthusiasts will then be able to vote for their favorite pieces.
The most highly voted SF artists and artwork will be entered into the final competition. Additional pieces will be elected by a panel of Expose SF Art Professionals.
The final SF art competition will be held in San Francisco and will award winners with career-building prizes such as patronage from Expose SF Art or gallery space in the upcoming year.
Vento Solutions recently partnered with US SEO, an international search engine optimization firm which is considered by some to provide the best search engine optimization in the United States