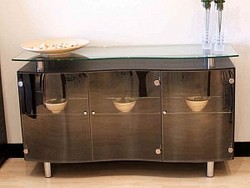 San Diego, CA (PRWEB) August 28, 2008
The online buffet furniture company, eBuffet.com is happy to announce the release of a sleek and unique looking contemporary sideboard in their line of dining room furniture. The cost of this conversation piece buffet has been kept low as well, because eBuffet believes quality buffet furniture should be available for those who want to add this practical and aesthetic piece to their home.
This modern, three-door sideboard constructed of wood, glass and steel is truly a unique piece of buffet furniture. It has a curved design, setting it apart from traditional furniture design. This sideboard is constructed using select hardwood which has been properly dried to prevent warping and cracking. This sideboard has been properly sealed with a hand painted finish. The glass doors and top give it a sleek finish, and provide handy storage and display space. The stainless steel feet and supports tie this dark oak finished buffet together, completing its unique contemporary look and making it a very sturdy piece of furniture.
This stylish and sleek sideboard can be placed in the dining room, however it also works as a very practical piece of living room furniture as well. Whichever room you decide to put this sideboard in, you'll find that it will immediately become a conversation piece in your home. Its unique design combined with its excellent utility makes it the buffet cabinet to have! And with eBuffet's low pricing and FREE shipping, even on conversation pieces such as this modern dining room buffet sideboard, everyone can now afford the finer things in life.
About eBuffet:
EBuffet is the leading online source and retail site for buffet furniture. They have searched to find the best buffet manufacturers in the business, ones which utilize the best materials and woodworking techniques, to bring their customers an extensive selection of discount sideboards, buffet tables, buffet cabinets, and kitchen hutches. EBuffet offers quality buffet furniture at low prices, with FREE shipping in the continental U.S., and a great customer service experience.
###