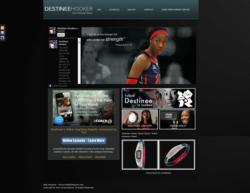 Capitalizing on her killer game and amazing skills, Hooker's new web design will allow players to upload videos and receive online lessons, tips, and drills specific to their training needs.
St. Petersburg, FL (PRWEB) August 17, 2012
Olympic Volleyball Medal Winner Destinee Hooker is looking to make a big impact in the lives of athletes everywhere. Hooker is collaborating with website design team DiscountWebDesigner.com, in conjunction with online coaching firm eCoach Sports, to launch her new website, DestineeHookerVolleyball.com. Capitalizing on her killer game and amazing skills, her new web design will allow players to upload videos and receive online lessons, tips, and drills specific to their training needs. Players can have them sent directly to their smartphone or any web-connected device.
Destinee is excited about sharing her knowledge with the volleyball world, and working with a select group of coaches who share her passion and vision. This Olympian is turning out to be quite the entrepreneur, and she isn't the only one up to exciting things.
Since the return from the London Olympics, athletes have been scurrying to capitalize on their new fame. We are used to seeing Olympic faces on cereal boxes and Nike commercials, and we grow to love these faces for those few short weeks, but what do Olympians do once the Olympics are over? Some have made obvious choices, such as returning to past athletic careers, or continuing to train and work in their sport. Some choices, however, are a little more- quirky…
Eleven-time Olympic Gold Medal Swimmer Ryan Lochte has gone into full Hollywood mode. Not only has he physically been in Hollywood since his return, he has already filmed a cameo for 90210, and is talking Dancing with the Stars- like previous Olympians Apollo Ohno, Shawn Johnson, Floyd Mayweather Jr, Sugar Ray Leonard, and more. He also expresses interest in becoming ABC's 'Bachelor'- and just about any other gig that will keep his smiling, dimpled face in the spotlight.
Olympian Misty May-Treanor has also gone to the web. May-Treanor, Women's Beach Volleyball Gold Medal Winner, is using her story of triumph over hardship (seasonal allergies) to motivate others to also get their nasal allergies under control. On DitchTheDrip.com, Misty says, "I didn't want my symptoms to spike and impact my performance both on and off the court." So, she learned to be proactive about her allergy symptoms and encourages all sufferers to do the same through her online campaign and newsletter.
Olympic Sprinter Jeff Demps, is looking forward to returning to his life before the Olympics- only better. He is busy researching and discussing possible NFL opportunities. Demps is no stranger to football- he spent four seasons with the Florida Gators before leaving to fulfill his dream of winning an Olympic medal. His agent, Daniel Rose, says that "He [Demps] wants to go win a Super Bowl." The Tampa Bay Buccaneers have confirmed their interest in Demps, and it is rumored that the New York Jets are also a strong contender.
And watch for Gabby Douglas, McKayla Maroney, Jordy Wieber, Aly Raisman, and Kyla Ross, who are joining the Kellogg's Tour of Gymnastics Champions (and coming to a city near you), with fellow past Olympic greats such as Nastia Liukin, Chellsie Memmel, and Alicia Sacramone. The tour begins on September 8 in San Jose, CA, with stops in 40 different cities.
The biggest names and brightest personalities of the 2012 London Olympics have not let us down since they have returned home. Entrepreneurs, TV stars, spokespeople- even though these amazing athletes have fulfilled one dream, that doesn't mean that their dreaming is done.
Founded in 1997, DiscountWebDesigner.com's mission has been to make the web a more beautiful and functional place through custom website design and internet marketing services. With more than 1000 successful web design projects completed, they have helped celebrities, entrepreneurs, professionals, organizations, and corporations to find success online.