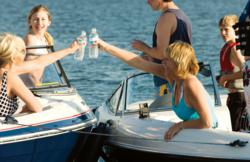 Discover Boating not only provides the tools needed to get on the water and explore the boating lifestyle, it also offers ways to get started without owning a boat
Chicago, IL (PRWEB) June 21, 2011
Summer officially arrives today and millions of Americans are looking for fun and easy ways to connect with family and friends. Instead of traveling far and wide, Discover Boating, the non-profit awareness program on behalf of the U.S. recreational boating industry, offers ways to escape on local waterways to beat the heat and get people's feet wet in boating without breaking the bank.
"Discover Boating not only provides the tools needed to get on the water and explore the boating lifestyle, it also offers ways to get started without owning a boat," says Ellen Hopkins, spokesperson for Discover Boating. "Boating provides the opportunity to disconnect from the stress on land and reconnect with family and friends on the water. With 90 percent of Americans living within an hour of a body of water, there are a variety of ways to plan a fun, affordable on-the-water escape this summer."
Whether considering boat ownership, planning an on-the-water getaway, or just looking to learn the ropes, Discover Boating share tips to get off the dock with family and friends this summer:
Rent or Charter. Easy renting isn't just for movies. Boat rentals can be surprisingly simple to do and come in a variety of forms, from hourly and daily rentals to week-long charters. Renting is the perfect way to compare boat types and explore local waterways for those not quite ready for boat ownership. Multi-day chartering is another option to help save on trip expenses, such as food, lodging and activities, which can often be negotiated into the overall cost of a chartering package.
Share Time … and Costs. Fractional boat ownership, similar to lodging timeshares, are cost-effective ways to have access to new boats and be able to share costs among a group of friends or other local boaters. Members pre-schedule use of the boat online and often receive the added benefit of lessons, flotillas and additional crew, if needed.
Membership has its Rewards. Local boating clubs and organizations can be found around the U.S. Whether looking for watersports, sailing or yacht clubs, there are options available to allow inexperienced boaters to test the waters through access to classroom and on-water trainings, a fleet of boats and member events.
Test the Waters. Cars aren't the only thing you can test drive. Visit a local boat dealer to "try before you buy" and take a boat for test drive to learn what fits your budget and interests. Similar to shopping for a car, test driving several boat types will help even the most experienced boater make a selection that best fits their lifestyle.
For more information, visit DiscoverBoating.com. The latest boating news, summer boating playlists, Welcome to the Water boating trip planner and more can be found at Facebook.com/discoverboating.
About Discover Boating
Discover Boating is a national awareness campaign developed by the North American recreational boating industry and managed by the National Marine Manufacturers Association (NMMA). Discover Boating programs focus on improving the boating experience and building interest in recreational boating by providing a resource for Americans to explore the benefits, affordability and accessibility of the boating lifestyle. To find out more, visit DiscoverBoating.com.
Media Contact: Colleen Kenny, Discover Boating (ckenny(at)nmma(dot)org, 312.946.6201)
###