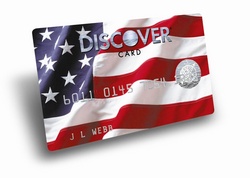 We wanted to recognize and reward those who serve our country by helping them make their money worth more, especially given the difficult economic conditions
RIVERWOODS, Ill. (PRWEB) July 23, 2008
"We wanted to recognize and reward those who serve our country by helping them make their money worth more, especially given the difficult economic conditions," said Julie Loeger, senior vice president of brand and product management at Discover Financial Services. "With this program, military families will be able to stretch their dollars on necessities that matter most right now, like gas and groceries."
The program will include more than 175 military bases nationwide, many more bases overseas, and includes everyday purchases like gas, groceries, lodging, telecommunications and other categories of merchants found on-base. Cardmembers can learn more at Discover.com/military.
In addition, Discover is proud to welcome Operation Homefront as a Cashback Bonus Partner from July 13 through Labor Day. Operation Homefront is a non-profit organization that provides emergency assistance and morale to our troops, their families and to wounded warriors when they return home, and has provided critical assistance to more than 45,000 military families in need. Discover will provide an additional 20% match to the Cashback Bonus donated by cardmembers to Operation Homefront.
Discover Card's consumer credit cards are founded on a commitment to helping cardmembers earn more meaningful rewards while giving them more choices and allowing them to spend smarter. Products include:
Discover More® Card gives cardmembers who use credit in many different categories a way to make their money worth more. Discover MotivaSM Card rewards cardmembers not just for making payments, but for making progress. Discover Open Road® Card rewards cardmembers for everyday spending with added value on gasoline and automotive purchases. Miles by Discover Card rewards cardmembers who want flexible travel with no restrictions. About Discover Financial Services
Discover Financial Services (NYSE: DFS) is a leading credit card issuer and electronic payment services company with one of the most recognized brands in U.S. financial services. The company operates the Discover Card, America's cash rewards pioneer. Since its inception in 1986, the company has become one of the largest card issuers in the United States. Its payments businesses consist of the Discover Network, with millions of merchant and cash access locations, and PULSE, one of the nation's leading ATM/debit networks. For more information, visit http://www.discoverfinancial.com.
MULTIMEDIA GALLERY http://www.businesswire.com/cgi-bin/mmg.cgi?eid=5721764