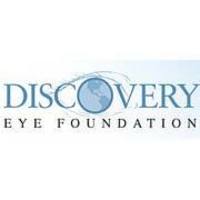 Los Angeles, CA (PRWEB) December 19, 2008
New Year's Day is a time of year when many individuals take a look forward to the coming year. New Year's resolutions, such as weight loss, and exercise are common, but medical experts at The Discovery Eye Foundation (DEF) are recommending you include making eye care a priority.
Eye care is not usually something that tops everyone's New Year resolution lists. While we may schedule regular appointments for the dentist, mammograms, prostrate screenings or annual check-ups, we are not as likely to take a proactive approach when it comes to eye health and eye care. Discovery Eye Foundation strives to combat blindness and eye disease through the support of groundbreaking research, while providing outreach and education for people coping with impaired vision. To help you maintain a healthy, active lifestyle, DEF recommends a few simple eye-care tips for healthy vision:
Nutrition for the Eyes
Eating the proper foods and taking appropriate dietary supplements can lower the risk of eye disease. Antioxidants, which include Vitamins C, E, and A, can help prevent age-related macular degeneration (AMD), diabetic retinopathy, glaucoma, cataracts, and other eye diseases. Good sources of antioxidants are found in brightly colored raw fruits and vegetables, such as carrots, beets, spinach and blueberries. Another good source is dark chocolate. If you or a family member has AMD you will find excellent information at the web site age-related macular degeneration that is sponsored by DEF.
People should also limit eating red meats and focus on consuming foods that are high in omega-3 fatty acids, including cold-water fish such as salmon, mackerel and halibut. Also avoid saturated fats and use more monounsaturated fats like olive oil.
Protect the Eyes from the Sun
Sun exposure can also be damaging to your eyes, contributing to diseases such as cataracts and macular degeneration. To protect the eyes from harmful ultraviolet (UV) rays, make sure your sunglasses have 99%-100% UV-A and UV-B protection, even if you wear contact lens that have UV protection. Wearing a wide-brimmed hat can also help protect your eyes.
Exercise and Don't Smoke
There is research that suggests aerobic exercise reduces eye pressure, which may be beneficial in the case of glaucoma. There is overwhelming evidence that smoking increases the risk for eye disease and vision problems particularly in macular degeneration and diabetic retinopathy. Among direct and indirect harmful effects, smoking damages blood vessels which deprives eye tissues of oxygen essential for eye health.
Have Annual Eye Exams
Last but not least, one of the most important and proactive steps that pepole can take to protect their vision is to have a complete annual eye exam. For people 65 and older, this becomes even more important as their risk for eye diseases increases dramatically.
The Discovery Eye Foundation funds groundbreaking research to find new treatments and cures for retinal and corneal eye diseases. They also empower people with current, accurate information and personalized support through the Macular Degeneration Partnership and the National Keratoconus Foundation. For more information, please visit their website Discovery Eye Foundation.
For media inquiries, please contact:
Erika Maya
Ballantines PR
erika@ballantinespr.com
Tel: 310 454 3080
Cell: 310 850 0309
Ballantines PR
###