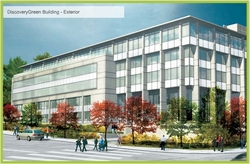 As such, Morguard has made a substantial investment in sustainability. By the end of summer 2008, 66% of our national office portfolio will be BOMA GoGreen certified.
Vancouver, BC (PRWEB) May 21, 2008
Discovery Parks Trust is pleased to announced that it has been recognized by the Premier of BC and BC Hydro for Innovation in Sustainable Building Design for its DiscoveryGreen Building currently under construction in Burnaby, BC. Upon its completion in April 2009, DiscoveryGreen will be one of the greenest commercial buildings in Western Canada and will add a much-needed 150,000 square feet of office and technology space to the Lower Mainland's tight commercial real estate market.
"With DiscoveryGreen we're showing that with proper design, green buildings are not significantly more expensive to construct than traditional buildings, but they have the potential for significant operational savings," stated Tom Douglas, Director of Development & Leasing at Discovery Parks, and the lead for the DiscoveryGreen project. "We encourage other developers to take advantage of the conservation design expertise at BC Hydro through their High Performance Building program. The design process was invaluable in helping us to create a better working environment for tenants and their employees."
Recognizing the market demand for socially-responsible and healthy work environments, Morguard Investments partnered with Discovery Parks on the development of DiscoveryGreen, acquiring the building and taking responsibility for tenanting and managing the property upon its completion. "Green buildings provide a socially-responsible and healthy workplace for tenants and have been proven to create substantial improvements in employee productivity," stated Greg Jones, Director, Asset Management, Morguard Investments Limited. "As such, Morguard has made a substantial investment in sustainability. By the end of summer 2008, 66% of our national office portfolio will be BOMA GoGreen certified."
In keeping with its focus on innovative design, Discovery Parks is currently investigating the feasibility of an even greener commercial building design that will replace a significant amount of concrete with engineered wood products constructed from Mountain Pine Beetle (MPB) wood. This new construction style has the potential to significantly reduce greenhouse gas (GHG) emissions by sequestering carbon within the wood while minimizing the use of Portland cement, the production of which is one of the largest single greenhouse gas emitters.
"As a partner in BC's Innovation Economy, it's only fitting that Discovery Parks will continue to push the boundaries of design to create buildings that are greener and healthier for our knowledge workers," stated Mark Betteridge, Executive Director and CEO of Discovery Parks.
About Discovery Parks Trust
Discovery Parks Trust is BC's leading operator of office and laboratory research space for the technology and life sciences sectors. By housing spin-off companies and those seeking to develop stronger relationships with post-secondary institutions, Discovery Parks' multi-tenant facilities provide an essential bridge between industry and academia in BC for knowledge and technology transfer.
A unique social enterprise, Discovery Parks is a private company with a public purpose. It has distributed more than $12.6 million of its operating profits to benefit academic research in BC. A leader in green building development, Discovery Parks built Canada's first LEED-certified lab in 2003 and is currently constructing DiscoveryGreen in Burnaby, BC.
In 2002, Discovery Parks was recognized by its peers with the Outstanding Research/Science Park Achievement Award from the Association of University Research Parks. Discovery Parks is also a key contributor to the BC Technology Industry Scholarship Fund, supporting young scientists and technologists in their academic endeavours.
About Morguard Investments Limited
Morguard Investments Limited is one of Canada's premier real estate investment advisors and management companies representing major institutional and private investors. With more than $6.9 billion in assets under management, Morguard provides a full range of asset and property management, acquisition, development and leasing services. Morguard's diversified portfolio includes more than 40 million square feet of office, industrial, retail, residential and mixed-use properties. It employs more than 800 staff in nine offices across the country.
As an organization, Morguard is committed to continually improving the environmental performance of its buildings, ensuring safe and comfortable surroundings for occupants, and contributing to a healthy and sustainable environment in its communities. Through its national GREEN LINK environmental program, Morguard is adopting a continuous "green" operation of its properties by promoting green building programs, technologies and design practices.
Media Contact:
Mark Betteridge, Executive Director & CEO
Discovery Parks Trust
604-734-7275
###