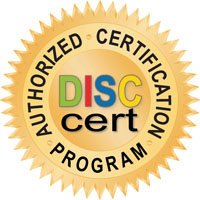 It is so rewarding to see DISC training professionals quickly help to increase their businesses' success.
San Diego, CA (PRWEB) July 11, 2012
DISCcert. (Web:disccert.com) a national leader in DISC Train the Trainer, is excited to announce that registration is open for their summer Instructor led - DISC Certification "Train the Trainer" Program that takes place in San Diego, California. Classes, lead by Top DISC Certification Expert Bonnie Burn, will commence August 23rd and 24th. Register today. The training will focus on teaching HR professionals and trainers proven DISC techniques, practical DISC tools as well as the best DISC implementation strategies. The event promises to be a 2 day lively, fun workshop with all one needs to train DISC for results.
"Those living in the San Diego, Orange County, Riverside, or Los Angeles areas will be amazed at how they can truly empower themselves and their employees using the DISC," explained Bonnie Burn. "For over 30 years I've been teaching other trainers how to train. It is so rewarding to see DISC training professionals quickly help to increase their businesses' success."
More information can be found at -

This is a DISC Trainer's Program geared for the busy trainer and HR professional who needs the DISC lesson plans & DISC PPTs & DISC activities already produced, so they can focus on implementing DISC A.S.A.P. when returning to work. Bonnie Burn has been an author and corporate trainer for over 30 years and knows trainers and HR professionals just don't have the time to sit around and develop DISC PPTs, or DISC activities, or DISC handouts. She makes it easy to be immensely successful when returning to work. In fact, a common question she gets from trainers and HR professionals after graduating is - "How do I handle all the DISC Training my people want?" What a great problem to have… People want to come to your DISC trainings… Now that's success!
About Bonnie Burn
Bonnie Burn, is a 30 year master corporate trainer and author of Assessment A to Z; Jossey-Bass Publishing. Her expertise for years as a professional DISC expert and corporate trainer in DISC, led her to design the most up-to-date and comprehensive DISC certification available. Through her company, DISCcert, corporate trainers and HR professionals can easily gain confidence in knowing how to successfully train DISC throughout their entire organization. Miss Burn is committed to set-up all DISC trainers and HR professionals for long term DISC Training Success.