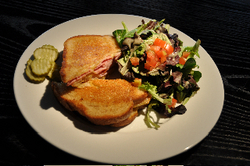 Washington, DC (Vocus) March 9, 2010
In conjunction with Executive Chef Robert DeCoste, from their sister restaurant Notti Bianchi, the team at Dish+drinks has introduced a delicious new lunch menu that focuses on a great American favorite, the sandwich. Sandwiches with a twist, and more. Recognizing the demand from lunch patrons for more healthful selections, lighter fare and speedier choices,Dish+drinks has put together a delicious new lunch menu to suit both the leisurely diner and the more time conscious business multi tasker.
Dish+drinks has inserted its own signature twist to timely classics – mouthwatering choices include an Egg Salad BLT – egg salad, apple wood smoked bacon, lettuce and tomato on toast, or a Parisienne - a delectable toasted sandwich of smoked Virginia ham, gruyere cheese set off with just the right amount of Dijon mustard, the "Big Chicken Sandwich" – lettuce, tomato, bacon, cheddar cheese, avocado, and radish sprouts, all on an onion roll, that gives just that little bit extra to make this sandwich extraordinary. The most unique sandwich on the menu which is an immediate favorite is the "Thanksgiving Turkey Sandwich" – generous pieces of roasted turkey, stuffing and cranberry-orange relish on Texas toast – now everyone's favorite post Thanksgiving treat is available every lunch time at Dish+drinks! Sandwiches range in price from $9 to $16 and are served with a side of French fries or salad.
In addition to the new sandwich selection, choose from a range of starter or entrée sized salads. A Caesar salad comes in two sizes, with a choice of adding chicken or shrimp. A Chopped Salad includes all the favorites and some extras – the basil and mozzarella cheese perfectly complement the turkey, bacon, egg, tomato, and blue cheese, and the mustard vinaigrette is the ideal companion. Salads are priced from $7 to $14.
For more substantial appetites, or for the diner who can linger, the grilled salmon with roasted red potatoes, fennel and mustard beurre blanc is a great choice, or the substantial sirloin steak, served with French fries, the beer battered fish and chips, or the penne pasta with rosé sauce and garlic cheese toast – held over by demand from the previous menu – should satisfy all tastes. Entrees are priced from $11 to $16. Click here to check the compete lunch menu.
Dish+drinks offers American cuisine with its own flair. It is open for breakfast 7 days a week, lunch and dinner are available Monday – Saturday. Dish+drinks is walking distance from The Kennedy Center and is very popular with the pre-theater dining crowd.
The new menu for DISH + drinks is complemented by the restaurant's extensive wine list which showcases big flavor, value-oriented wines from around the world, with most selections available by the glass and bottle. Vintages range from $7-$13 by the glass and $26-$58 by the bottle, inviting exploration.
Dish +drinks is located on 25th Street, between Eye and K at 924 25th Street, NW Washington DC, 20037. Click here for reservations, or phone on 202-338-8707. Hope to see you soon!
###