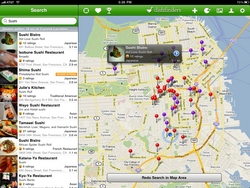 "We hope this latest release will give users even more social outlets to share and leverage opinions of others, just like them, who love discussing food." - Dishfinders co-creator and Cocoafish CEO, Mike Goff
San Francisco, CA (PRWEB) October 26, 2010
Cocoafish, Inc., a San Francisco-based mobile application development firm, released its long awaited Version 2.0 upgrade to its Dishfinders iPhone and iPad application, on October 8, 2010. The latest version of the popular food review app, which enables food-lovers to search for and review specific dishes ranging from tacos to sushi to pizza to foie gras from any restaurant in the world, includes a redesigned look and feel as well as integration with Facebook, Twitter, Flickr and Opentable.com. The latest version of the application is now available for free download on the Dishfinders App Store page.
According to Cocoafish CEO and Co-Founder Michael Goff, the new features are aimed to improve the user experience as well as to provide users with new ways of socially interact and share reviews, ratings and photos of their food and restaurant experiences across popular social networks. "Since our initial release in February of this year, our users have found incredible value in being able to read reviews on specific dishes for restaurants all over the world," Goff said. "We hope this latest release will give users even more social outlets to share and leverage opinions of others, just like them, who love discussing food."
New features to the iPhone and iPad application that are now available for free download include:

New user interface and navigation that includes enhanced search and photo sharing capabilities
Automatically post reviews to Facebook, Twitter and Flickr from your iPhone, iPad or Dishfinders.com
Comment on other users' photos and rate other users' reviews
Bookmark your favorite dishes to share later with others
View reviews and ratings on specific dishes from leading food and restaurant bloggers
In coordination with the release of the newest version of the Dishfinders application, Cocoafish has also implemented a contest that will reward its most active users with cash prizes. Dishfinders users can now earn points for uploading photos of dishes while at restaurants, or by rating, reviewing and commenting on photos of other users' dishes. Users can also track how many points they have in relation to others on the application's new Leaderboard feature available on the iPhone, iPad or on Dishfinders.com.
Goff believes the contest should help rapidly create new, useful food review and image content for the application's growing user base. But he also believes it will help incite friendly competition between the application's most active users and enrich their social experience. "Let's face it, competition can be very fun. Especially when it involves food and new social experiences with others who have the same food-driven interests. We thought it would be a great way to increase awareness of our new 2.0 features and also give our users a chance earn some cash in the process."
The Dishfinders' photo-sharing contest will end on December 18, 2010 and will offer cash prizes of up to $150 to the users with the most accrued points on their Leaderboard. More information on the Dishfinders Photo-Sharing Contest is available on http://www.dishfinders.com.
The third major pillar of the latest Dishfinders release was the application's integration with Opentable.com. Dishfinders users can now make restaurant reservations through Opentable directly from the Dishfinders website or iPhone and iPad applications. Goff believes Dishfinders' new Opentable reservation feature will offer users a more streamlined, end-to-end food and restaurant searching experience. Since its inception, Dishfinders users have leveraged the application to search for specific dishes based on their location and interests and evaluate restaurants using the application's database of hundreds of thousands of photos and reviews. However, according to Goff, these same users can now complete the restaurant selection process by making an Opentable reservation for the restaurant of their choice within the Dishfinders app.
Currently, Dishfinders is the only food and dish review application that offers integration with Opentable, giving the application competitive advantage over similar food review products. According to Goff, "We are extremely excited about our recent partnership with Opentable the opportunities it presents for enriching our users' experiences. One of our goals for the Dishfinders application is to simplify the restaurant selection process for our users. We believe our integration with Opentable gets us closer to our product goal."
But Goff isn't the only person who is excited about the Dishfinders' new 2.0 release features. The application's iTunes page features a number of positive reviews from satisfied users that appear to be pleased with the changes. Brian McCormick writes in his Dishfinders review, "I love the new version of the app! Dishfinders has pretty much everything I need to find a good meal while I'm traveling for work – You can see photos of dishes on menus before you even get to the restaurant. And now with its reservation feature, I don't have to wait to get a seat."
While the latest release of the application offers major enhancements in the areas of usability, social interaction and end-to-end restaurant search and selection, Goff believes that Dishfinders (which has already been acclaimed by Arnold Zafra of Search Engine Journal as one of the "most significant" search-related iPad apps available to the market) still has a number of exciting opportunities ahead. "We have a number of exciting things on our product roadmap including an Android version of the application, integration with Yelp and Citysearch, and international versions of the app that will be available in languages other than English," Goff said. "Our users should look forward to more enhancements in these areas over the next year." Goff also states that the application will eventually include features for restaurant owners to add and promote their dishes to Dishfinders users.
The Cocoafish CEO believes that the key to continued growth and success with its Dishfinders product is listening to its users and using their feedback to continue to improve their food-finding experience. "Our user base continues to grow significantly, month over month," Goff says about Dishfinders' rising popularity in the mobile and social application space. "We've gotten to this point by paying attention to the needs of our users, and by using their feedback to grow and develop the interactive food-finding experience together. We believe that if we stick to a customer-focused strategy moving forward that we should be able to sustain this level of growth over the next year."
Download the Dishfinders iPad and iPhone app for free at the Apple store or become part of the growing Dishfinders community by visiting the Dishfinders Facebook Page, or following Dishfinders on Twitter to receive product updates and incentives. You can also read all of the Dishfinders iPad App release media coverage on the Dishfinders media page.
Cocoafish, Inc is based in San Francisco, CA and was founded in January 2010 with the vision of building the foundation for the next generation of mobile apps and social networking websites. The company's open, standards-based Cocoafish mobile application development platform effectively eliminates the need for iPhone and iPad developers to provision and maintain hardware, storage, databases, and application stacks.
For more about Cocoafish's Dishfinders product, email info(at)dishfinders(dot)com.
Press Release posted by Daniel Morris on Tuesday, October 26, 2010.