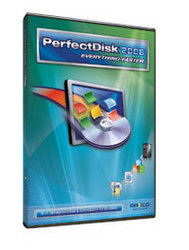 With PerfectDisk 2008 for VMware, I can improve the performance of VMware virtual disks and recover valuable host disk space
Gaithersburg, MD (Vocus) January 29, 2008
Raxco Software, the leader in disk defragmentation software, today announced the latest release of its award-winning PerfectDisk® 2008 disk defragmentation utility, along with new components that together comprise a complete and flexible performance and storage management solution for enterprises, small business and home offices. With this release, Raxco continues its tradition of leading the industry in productivity-enhancing defragmentation and performance solutions, including industry-first solutions for VMware® Workstation and VMware Server environments.
The entire family and highlights include:

PerfectDisk 2008 Professional and PerfectDisk 2008 Server
o A brand new user interface to enhance usability and improve the user experience, including ribbons, new wizards, new graphs and more.
o Enhancements to the popular Single Defrag option, including a new Selected Files Defrag capability to defragment selected files rather than the entire drive.
o New unattended background defragmentation used when scheduling is not convenient. PerfectDisk provides the most flexible and comprehensive defragmentation options available today.
o New free space management capabilities including a Space Explorer™ graphical drive view and, with the Professional edition, a duplicate file remover.
o New Volume Shadow Copy (VSS) compatibility mode provides enhanced defragmentation of VSS environments.
o Reduced memory footprint for improved performance – up to 50% faster.
o Support for the exFAT file system for improved flash drive support.
o Vista SP1 (Professional edition) and Windows Server® 2008 (Server edition) ready.
PerfectDisk 2008 for VMware Workstation and PerfectDisk 2008 for VMware Server
o A complete automated optimization solution for VMware virtual drives in accordance with VMware recommendations.
o Full defragmentation and free space consolidation of VMware virtual drives with PerfectDisk's patented SMARTPlacement™ optimization scheme to improve virtual machine performance.
o Automated reindexing of VMware internal drive structures for improved performance.
o Automated shrinking and compaction of virtual drives to reclaim space.
o Automated defragmentation, optimization and free space consolidation of host drives to improve host performance.
o Installation required only on the host system.
PerfectDisk 2008 for Exchange
o New support for Exchange 2007 to provide total automation of data store defragmentation/compaction for reclaiming Exchange disk space and improving Exchange performance.
PerfectDisk 2008 for Windows Home Server
o All the enhancements of the Professional and Server editions now available for users in WHS environments.
With a wealth of new and expanded features specifically requested by users, along with the new VMware offerings, the release of the PerfectDisk 2008 family represents the broadest and most comprehensive offering ever by a disk defragmentation provider. Users can now ensure maximum performance and availability across their Windows® environments – PCs and laptops, servers, VMware workstations and servers, Exchange servers and even Windows Home Server systems.
"The vastly improved user interface with PerfectDisk 2008 makes an already easy-to-use product a real pleasure to work with," said Russ Howard, Systems/Programmer III at the University of Pittsburgh. "That, along with several additional and valuable enhancements such as new reports, selected files defrag and Space Explorer makes an already outstanding product even better – Raxco Software has raised the bar again."
"With PerfectDisk 2008 for VMware, I can improve the performance of VMware virtual disks and recover valuable host disk space," said Scott J. Danesi, a technical consultant in Charlotte, North Carolina. "And the best part is that I no longer have to do it all manually."
"The PerfectDisk 2008 family is in direct response to our millions of worldwide enterprise, small business and home users, and represents our biggest leap forward in our thirty-year history," said Bob Nolan, president and CEO of Raxco Software. "Not only have we made significant performance, usability and feature enhancements to our core PerfectDisk products, but with the addition of PerfectDisk for VMware, we've addressed another huge hole in the virtualization performance arena. The world spoke, we listened, and we've delivered breakthrough solutions once again."
The PerfectDisk family of products is available immediately via the Raxco Software web site at http://www.raxco.com as well as favorite resellers everywhere. PerfectDisk 2008 Professional pricing starts at $39.99 for a single license, while a single license of PerfectDisk 2008 Server starts at $99.99 and PerfectDisk 2008 for Exchange is priced at $399.99 per Exchange server. PerfectDisk 2008 for VMware Workstation pricing starts at $99.99 per physical workstation and PerfectDisk 2008 for VMware Server pricing starts at $199.99 per server. PerfectDisk 2008 for Windows Home Server is priced at $39.99 for a single license and $99.99 for a home site license.
About Raxco Software
Raxco Software has been helping large enterprises, small businesses, and consumers with their computer resource management needs since 1978. Its PerfectDisk is Windows® Certified by Microsoft, and optimized for Windows XP. The PerfectDisk line has a long award-winning history, including its perfect 5-star review from CNET Download, winner of the Windows IT Pro Readers' Choice Awards for Defragmentation Utility and Storage Management Tool, Redmond Magazine's Best of the Best Award, and PC Magazine's Editors' Choice award multiple times. In addition to its PerfectDisk line, Raxco also produces PC optimization software, including system recovery and disk repair products for Windows operating systems and HP's OpenVMS operating system. Raxco Software can be found on the Web at http://www.raxco.com .
Contacts:
Sherry Murray
Raxco Software, Inc
301-519-7836
smurray@raxco.com
###