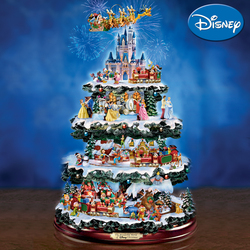 Niles, Illinois (PRWEB) November 12, 2008
The maddening pace of the holiday season can often distract us from the true magic of Christmas. With places to go and things to do, recapturing the enchantment of the most wonderful time of the year is not an easy task. It takes something very special to get us to stop and glimpse the magic. There is one name that continues to delight and uplift us, especially during the holidays. That name is Walt Disney.
To this very day, the magic of Disney continues to inspire generations with cinematic wonders and memorable characters. From their first animations of a mouse named Mickey to today's highly imaginative visions of Nemo, Belle, Simba and more, Disney has created a legacy of enchantment. What better place to experience that wealth of enchantment than during the glorious days of Yuletide.
Now, all of the delightfully imaginative characters from the Wonderful World of Disney are ready to light up a brand new season of joy. Introducing the ultimate Disney Christmas tree, available from Collectibles Today. Standing a towering 16" high and decorated with over 50 sculpted, hand-painted character figures in 10 unique holiday scenes, this magnificent Disney Christmas table decoration is destined to become the centerpiece of your tabletop holiday display.
Four levels of rotating movement spin the Disney Christmas tree into magical life while 20 brilliant LED lights enhance each snowy tier with stunning shadows and effects. The familiar strains of classic Christmas carols highlight all of the festive action, accented by a crowning Pluto-drawn sled that ushers a Santa-dressed Mickey round and round the top of the tree.
This magical Disney collectible is the perfect way to keep the joys of Christmas going all season long. From the truly young to the young at heart, everyone will love this unique and magical Disney Christmas tree. Make way for the Mickey holiday express train and enjoy a celebration of the true spirit of the season, as only Disney can do.
Like this radiant Disney collectible Christmas tree, a holiday bounty of unique handcrafted collectibles can be found at Collectibles Today. Visit us for perfect Disney Christmas gifts and celebrate a season of magic and joy.
###