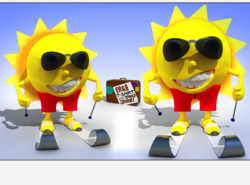 This is a great opportunity for the Home Owner of these homes to try this out for free.
Orlando, FL (PRWEB) June 30, 2011
Rent My vacation Home needs more homes for the 3 Disney web sites they have with almost no vacancy for the Summer of 2011 .The sites are "Rent Disney World Vacation Homes " also "Rent Disney Land Vacation Homes" and "Rent My Disney Vacation Home" all of the sites are dot com.
Due to the Rent My Vacation Home addition of Mr. Sunny,he is a Disney like travel cartoon character that can be viewed on the main site of Rent My Vacation Home website .This animated on the home page of the site. The character looks like a ball of sun shine that has arms and legs that the kids really like to look at Mr. Sunny.
By going to the sites that are Disney themed and only really talking about the Disney parks, the water rides and the area.The web sites gives many tips on travel to either of the Disney parks. The sites are very specialized for that area of Orlando Florida and Anaheim California where Mr.Walt Disney created his theme parks known throughout the world.
Disney World and Disney land Events this summer of 2011 include every night entrainment featuring the following :
9:00 pm - "Celebrate America - A Fourth of July Concert in the Sky" Fireworks
10:00 pm - Main Street Electrical Parade
12:00 am - Main Street Electrical Parade
Rent My Vacation Home is giving away memberships to the site right now with coupon code "Disney" .
Mr. Jay Kalin CEO of Rent My vacation Said "We knew if we went to the animators and added the character Mr. Sunny that Disney parks would be a great place for this animated character to appear in person.
Mr. Sunny will be appearing at both Disney Parks in Orlando and Anaheim for July 4th 2011 and other times during the summer of 2011. If you email info@rentmyvacatiohome.com as to his exact where abouts on July 4th or any day at the park you will receive a free featured listing of 100.00 and a free dinner to the Steak House Famous Grill in Orlando and Anaheim .Keep an eye out for Mr. Sunny this summer of 2011 and ask him for the free dinner and listing coupon with special code when you see him at the Disney Parks.
Here is a link to the sites to redeem the code from Mr. Sunny :
1. http://rentdisneyworldvacationhomes.com/
2.http:// [ http://rentdisneylandvacationhomes.com/
3. http://rentmydisneyvacationhome.com
All of these sites are Managed by [http://www.RentMyVacationHome.com
###