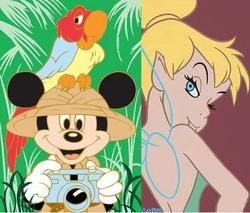 Ogden, Utah (PRWEB) June 16, 2008
SandersArtStudio.com in Ogden, Utah, is pleased to announce two exclusive gifts with the purchase of Disney Fine Art. Guests who purchase any Disney Fine Art Giclee or Original Painting from SandersArtStudio.com will receive one (1) free Disney Fine Art Pin with each purchase.
Each pin will be individually marked with a limited edition number (example 1 of 50) and comes in its own bag.
Pin Facts:

Gift with Purchase - Disney Fine Art - "Teasing Tink"
Artist: Trevor Carlton
Edition Size: 100
Size: 3 inches
Gift with Purchase - Disney Fine Art - "Safari Mickey"
Artist: Dick Duerrstein
Edition Size: 50
Size: 3 inches
These pins were created to celebrate "The Magic of Disney Fine Art Exhibition."
In addition to the exhibit, over 500 limited-edition Disney Fine Art Giclee's and Disney Fine Art Originals are available for purchase on a website and virtual gallery at SandersArtStudio.com.
The website will be showcasing work from the artists listed below:
John Alvin - Toby Bluth - Tricia Buchanan - Benson-James Coleman - Dick Duerrstein - Harrison & Peter Ellenshaw - Michael & Inessa Garmash - Manny Hernandez - Mike Kungl - Mike Kupka - Allison Lefcort - Stephen Reis - Tim Rogerson - John Rowe - Jim Salvati - Jim Warren - Trevor Carlton
Quantities are limited. Limited-Editions vary in size.
About DisneyPins.com
The official Disney site includes new releases, event information, pin trading locations, and a database of over 10,000 pins.
© Disney elements © Disney
###