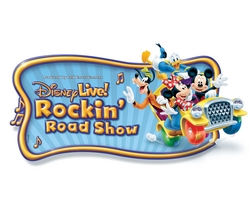 What really sets www.disneylive.com [Disney Live! Rockin' Road Show] apart is that it incorporates classic Disney characters into a set of silly 'cartoon rules' where anything can happen and fun knows no boundaries
Vienna, VA (Vocus) August 19, 2009
Disney Live! Rockin' Road Show hits the road in August 2009 on a 75-city U.S. tour as Feld Entertainment's newest live stage production, starring Mickey Mouse in a fun-filled road trip and talent search adventure. Spotlighting favorite Disney characters such as the ever-lovable Tigger; Cinderella and her comical stepsisters; and for the first time in Disney Live! history, Buzz Lightyear, Woody and friends from Disney/Pixar's Toy Story; Disney Live! Rockin' Road Show unfolds through an original, laugh-out-loud storyline that whisks audiences away on a wacky journey without ever leaving their hometown.
Produced by Kenneth Feld and Alana Feld, the show revolves around a one-of-a-kind, unpredictable road trip as Mickey Mouse, Minnie Mouse, Goofy and Donald spontaneously attempt to round up amazing acts for their talent show. Thanks to Mickey's fantastical bus, they are able to soar over mountains and plunge underwater to complete their search for performers. Through the incorporation of a giant video screen and multiple scenic projection panels, audiences are able to enjoy a truly visual experience as the scenic backdrop takes them through country hillsides, a cactus-filled desert, a royal village and other picturesque locales.
"What really sets Disney Live! Rockin' Road Show apart is that it incorporates classic Disney characters into a set of silly 'cartoon rules' where anything can happen and fun knows no boundaries," says Producer Kenneth Feld. "Families get to create lasting memories as they embark on a thrilling, high-energy, theatrical excursion with their favorite Disney friends, right in their hometown."
Disney Live! Rockin' Road Show spotlights beloved characters performing a variety of talents as they sing and dance to a mix of hip Disney tunes. Audiences can join Cinderella as she performs "Bibbidi-Bobbidi-Boo"; hoot and holler at a hoedown with Woody, Jessie and Buzz Lightyear; and bounce along with Tigger to "The Whoop-De-Dooper Bounce."
"As Mickey and his pals team up to put on their show," says Producer Alana Feld, "the audience will experience all the excitement, humor, hijinks and spontaneity inherent in both road trips and talent shows. They will be reminded of the fun that ensues when friends work together."
To produce Disney Live! Rockin' Road Show, the Feld father-daughter duo called upon the talents of a creative team consisting of:

Jay Smith (Director) - In his 18-year Disney career, directed entertainment for Walt Disney World® Resort, Disneyland® Resort Paris and the opening of Hong Kong Disneyland®; directed assignments on behalf of such institutions as Radio City Music Hall, the Grand Ole Opry and the Super Bowl; director of show development for Feld Entertainment since 2007
Bradley Zweig (Writer) - Veteran writer of children's programming and a pioneer of interactive children's theater; has developed material for Disney Channel, Imagine Entertainment, Cartoon Network, Nickelodeon, National Geographic and the Smithsonian Institution's Discovery Theater; wrote two editions of Ringling Bros. and Barnum & Bailey®; served as writer and producer on the Henson Digital Performance Studio television series "Sid the Science Kid," for which he was nominated for an Emmy® Award
Robbie Mackey (Choreographer) - Choreographed Disney Live! presents Three Classic Fairy Tales along with numerous shows and events, including the Grand Opening of Hong Kong Disneyland® and the Super Bowl XXV and XXIX Halftime Shows
Scott Lane (Costume Designer) - Credits include Disney On Ice presents Disney/Pixar's Finding Nemo and Disney Live! presents Mickey's Magic Show; seven-time costume designer for the Tournament of Roses Parade; designed couture for Indianapolis Symphony Orchestra instrumentalists
Rick Papineau (Scenic Designer) - ¬Vice President of Scenic Elements for Hagenbeck-Wallace; Feld Entertainment veteran who creates props, scenic elements and special effects for all corporate touring shows
Sam Doty (Lighting Designer) - Assisted in the building and planning of every Feld Entertainment show since 2006, including Disney On Ice presents Worlds of Fantasy, Playhouse Disney Live!, and three editions of Ringling Bros. and Barnum & Bailey®
Ilja Nowodworski (Video Designer) - Has designed video for Feld Entertainment productions since 2007; worked as an Editor, Cameraman and Animator for the German versions of "The Apprentice" and "Dancing with the Stars"; toured with David Copperfield as a Cameraman and Video Engineer
Stan Beard (Musical Director) - Has arranged and written the musical score for numerous domestic and international Disney On Ice productions; has worked in the recording studio with such luminaries as Barbra Streisand and Frank Sinatra
Disney Live! Rockin' Road Show is just one of the many Feld Entertainment productions touring the globe in 2009-2010. Additional productions playing North America beginning this fall include Playhouse Disney Live!, Disney On Ice presents Celebrations!, Disney On Ice presents Worlds of Fantasy, Disney On Ice presents Disney/Pixar's Finding Nemo, Disney On Ice celebrates 100 Years of Magic and Disney On Ice presents Princess Classics. With a growing roster of more than 30 Disney On Ice and Disney Live! spectaculars, Feld Entertainment brings the magic of Disney Live! and Disney On Ice to fans all over the world.
See attached 2009 tour schedule for Disney Live! Rockin' Road Show. To find out more about Disney Live!, and to purchase tickets, the public should visit http://www.disneylive.com .
About Feld Entertainment:
Feld Entertainment is the worldwide leader in producing and presenting live touring family entertainment experiences that lift the human spirit and create indelible memories, with 30 million people in attendance at its shows each year. Feld Entertainment's productions have appeared in more than 60 countries on six continents and include Ringling Bros. and Barnum & Bailey®, Feld Motor Sports, Disney On Ice and Disney Live!.
For more information about Disney Live!, members of the media should visit http://www.feldentertainment.com .
Contact:
Craig Bloom
Hill & Knowlton
(P) 212-885-0585
Contact:
Bridget Veihmeyer
Feld Entertainment, Inc.
(P) 703-790-2546
###