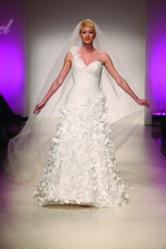 Michael Shettel, designer for Alfred Angelo, created a Rapunzel inspired bridal gown that reflects the character's confident, unconventional approach to style.
Phila, PA/Glendale, CA (Vocus/PRWEB) April 13, 2011
Disney Fairy Tale Weddings by Alfred Angelo will unveil the exciting new Rapunzel wedding gown to press at its upcoming annual bridal fashion show on Friday April 8, 2011 at EZ studios in New York. Rapunzel's gown is the latest addition to the celebrated Disney Fairy Tale Weddings by Alfred Angelo collection of seven Disney Princess-inspired wedding gowns that launched earlier this year.
Following the box office success and upcoming DVD release of the movie, Tangled, Rapunzel is becoming her own classic Disney character loved by fans around the world. As a result, Michael Shettel, designer for Alfred Angelo, created a Rapunzel inspired bridal gown that reflects the character's confident, unconventional approach to style. The gown's one shoulder dropped waist, pleated bodice represents the unique, artistic vision that Rapunzel brides bring to everything they do. The delicate three-dimensional satin petals on the skirt pay homage to the natural things Rapunzel longs for, and expresses through her artistry. These petals are adorned with light-catching crystals and twinkling sequins to represent the lanterns she views every year on her birthday from her tower.
Also gracing the runway at the press preview on April 8, is the new Cinderella Platinum wedding gown. The gown, which was presented at a special Walt Disney World® Resort event last month, was created to commemorate the 20th (Platinum) Anniversary of Disney's Fairy Tale Weddings and Honeymoons in Orlando, Florida. Shettel's special edition design includes a multitude of asymmetric tulle layers paired with a head-turning bejeweled bodice. This special gown not only celebrates the fairy tale that inspired it, but incorporates nostalgic and modern elements that span the 20 years of Disney's Fairy Tale Weddings
Disney fans and wedding industry bloggers were invited for the first glimpse of the Cinderella Platinum wedding gown, and selected brides-to-be were given the opportunity to try it on before it was released publicly.
"I was immediately transformed into a princess," commented Amanda Day, the first bride-to-be to slip into the style. "I didn't want to take it off! And it took my mother's breath away to see me in that dress. It was amazing."
"We are excited to continue to offer brides new Disney Princess-inspired styles that allow them to look and feel like a princess on their magical day too," said Robert Oberschelp, Director Disney Collections. "Look for Disney Consumer Products and Alfred Angelo to continue to unveil more special edition bridal gowns and accessories soon."
The Rapunzel bridal gown and Cinderella Platinum anniversary gown from Disney Fairy Tale Weddings by Alfred Angelo will be available for retail in Alfred Angelo Signature Stores and bridal shops worldwide in late summer 2011. For more information please visit: http://www.disneybridal.com, http://www.alfredangelo.com/Disney or http://www.alfredangelo.com/Blogger
About Alfred Angelo
Founded in the 1930s by Alfred Angelo Piccione and his wife, Edythe Piccione, Alfred Angelo is one of the world's leading makers of wedding gowns and bridesmaid dresses and is committed to providing beautiful, high-quality bridal and formal dresses at affordable prices. In addition to manufacturing dresses distributed in over 2000 wholesale stores worldwide, the company operates Alfred Angelo Signature Stores located in Arizona, Alabama, Arkansas, California, Florida, Louisiana, Maryland, Mississippi, Nevada, New Mexico, New York, Ohio, Oklahoma, Pennsylvania, Tennessee, Texas, Virginia, and Washington. For more information about Alfred Angelo, please visit http://www.alfredangelo.com or follow us at YouTube.com/AlfredAngeloBridal, Facebook.com/AlfredAngeloBridal and Twitter.com/AlfredAngelo.
About Disney Consumer Products
Disney Consumer Products (DCP) is the business segment of The Walt Disney Company (NYSE: DIS) that extends the Disney brand to merchandise ranging from apparel, toys, home décor and books and magazines to foods and beverages, stationery, electronics and fine art. This is accomplished through DCP's various lines of business, which include: Disney Toys, Disney Fashion & Home, Disney Food, Health & Beauty, and Disney Stationery. Other businesses involved in Disney's consumer products sales are Disney Publishing Worldwide, the world's largest publisher of children's books and magazines, and DisneyStore.com, the company's official shopping portal. The Disney Stores retail chain, which debuted in 1987, is owned and operated by Disney in North America and Europe. The Disney Stores chain in Japan is operated under a license agreement with Disney. For more information, please visit DisneyConsumerProducts.com or follow us atYouTube.com/DisneyLiving, Facebook.com/DisneyLiving and Twitter.com/DisneyLiving.
Media Contacts:
Alfred Angelo
Amanda Sheronas – Director of Public Relations
267-948-1160
asheronas(at)alfredangelo(dot)com
Disney Consumer Products
Tara Settembre
818-544-0393
Tara.Settembre.Ocampo(at)disney(dot)com
###