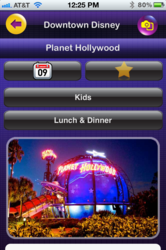 Disney Dining is visually stunning and easy to use.
San Clemente, California (PRWEB) October 08, 2012
Continuing its strategic plan to expand its group of popular iPhone apps specifically designed for guests visiting Disney World in Florida and Disneyland in California visitors, MediaLAB, Inc. announced its newest app, Disney Dining for Walt Disney World Dining. The app joins the company's Walkee iGuide to Disneyland, the number one selling Disneyland iPhone app.
Disney Dining provides extensive information for more than 170 Walt Disney World restaurants located at the Magic Kingdom, Epcot, Hollywood Studios, Animal Kingdom, and Downtown Disney as well as restaurants at all 22 Walt Disney World resorts.
Utilizing the most advanced level technology, visitors will have at their iPhone fingertips restaurant overviews, pictures, menus, prices, service type, Dining Plan credits, Tables in Wonderland, Disney Vacation Club and Annual Passholder discounts.
Restaurant pictures, featuring vivid, saturated color definition, are included for all restaurants. Near Me GPS displayed in yards makes it easy for visitors to visually see how far you are from any restaurants.
There's no need to bother looking up a restaurant phone number. Reservations can be made by calling Walt Disney World Dining directly from inside the app. Guests can add the chosen restaurant, along with reservation date and time, to a separate Reservations screen, which stores the information for future reference. No need to worry about forgetting the reservation because the app can set a reservation text reminder. A text reminder is sent 40 and 20 minutes prior to the users set reservation time.
Any restaurant can be searched by name and made a Favorite. Visitors can easily and quickly access their Favorites from a dedicated Favorites screen.
Disney Dining also makes it easy and fun to personalize a restaurant by adding one's own pictures and making in-app notes on all restaurant pages. This is a great feature for adding important notes for later use.
Disney Dining is designed for iPhone and iPad.
About MediaLab
MediaLab, established in 19xx and headquartered in San Clemente, CA, is a media group providing visitor information via mobile, online, and print outlets, including http://www.TapBanana.com (apps site), http://www.welcometosocal.com (company website, with ticket discounts to local attractions and digital copies of SoCal Magazine), iTunes page, and WelcometoSoCal.blogspot.com.