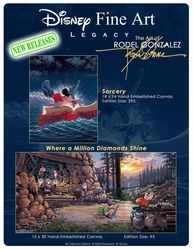 Creative Interpretations of Mickey Mouse, Alice in Wonderland and Roger Rabbit. Are Perfect for Holiday Gift-Giving
Ogden, UT (PRWEB) September 4, 2010
Mickey Mouse, Donald Duck, Jessica Rabbit, Alice in Wonderland and other favorite characters from The Walt Disney Company, are arriving to Sanders Art Studios on September 4 in more than a dozen stunning, new Disney Fine Art pieces.
Rodel
Sorcery: $550 SRP
Where a Million Diamonds Shine: $650 SRP
Harrison Ellenshaw
Castle Rock: $295 SRP
Cinderella's Moonlit Arrival: $295 SRP
Mike Peraza
Red Queen: $250 SRP
Red Queen (Deluxe): $695 SRP
Daughter of Triton: $495 SRP
Katie Kelly
Boat Builders: $350 SRP
Off to the Ball: $350 SRP
Michelle St. Laurent
Perfect Fit: $450 SRP
Date with Daisy: $450 SRP
Mike Kungl
Roger's Moto Works: $425 SRP
Roger's Moto Works (Deluxe): $595 SRP
Noah
Fantasia: $250 SRP
Fantasia (Deluxe): $795 SRP
To order individual pieces and for more images, visit http://www.SandersArtStudio.com.
Sanders Art Studio, a family run business located in Ogden, Utah, is the official licensee of DreamWorks Animation SKG, and the global publisher of DreamWorks Animation Fine Art. Sanders Art Studio specializes in providing collectors rare and exclusive pieces of animation art.
(C)Disney
###