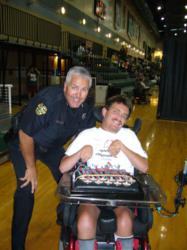 The athletes are enthusiastic and excited to participate in the events
Davenport, Florida (PRWEB) May 29, 2013
The Florida Special Olympics has been hosted at ESPN – Disney's Wide World of Sports complex for several years and SunKiss Villas staff is happy to be a part of the excitement as volunteers. The event has always been a treat to witness as a spectator. Athletes of all ages are enthusiastic and excited to participate in their events and challenges which shows through in the expressions on their faces including the determined and focused look when putting everything they have in to it. But this same enthusiasm isn't exclusive to Florida. The same can be witnessed in any of the Special Olympic events around the country.
Volunteering at the Special Olympics is something the staff of SunKiss Villas holds dear to their hearts, especially since Matthew Douglas, the son of SunKiss Villas owners Mark and Dora, is a special needs individual. They have taken time from their busy schedule of Property Management and Reservations of Disney area Vacation Home Rentals to volunteer at several Special Olympic events over the past few years.
Giving back to the community has always been part of SunKiss Villa's philosophy. Whether contributing to the community by donating time, talent or money, giving is a way of life for this company and they encourage others to become involved in their communities in some way. Volunteering to help at the Special Olympics in any state is a great way to get involved in the community.
"When you share in the community by donating your time you become far more aware of the struggles and challenges that other people face. You also get to help participate to be part of the solution. Some people may think they would be uncomfortable and feel awkward but people with disabilities are pretty normal, once you get to know them. They have dreams and goals, likes and dislikes, just like anyone else," says Mark Douglas, CEO of SunKiss Villas.
Florida Special Olympic athletes are also offered several health screenings for Vision, Smiles, Hearing, Feet, Skin Care, Blood Pressure, and Bone Density. SunKiss Villas staff helped out in the Healthy Feet section of screening on day one of the Special Olympics. On day two of the event Mark and Dora were "Ball Chaser" volunteers in one of the six Volley Ball courts while Matthew helped Orange County police officers present medals to some of the winning volley ball teams.
"We got our exercise that day but it was fun to watch all the athletes compete. Although Matthew wasn't an athlete he had a great time helping present medals to the athletes. We were only a few people of the many who volunteered. The volunteers come from all over the country and sometimes from overseas. Some of the people who have volunteered have even been guests in our Orlando Vacation Rentals. I think it's great that Disney World hosts the Florida Special Olympics at the beautiful ESPN Wide World of Sports complex. It really makes for a fantastic event," says Mark Douglas, CEO of SunKiss Villas.
About SunKiss Villas:
SunKiss Villas – offering beautiful, private vacation home rentals near Disney World, Florida. Located in Davenport, Florida with an A+ rating from the Better Business Bureau of Central Florida, SunKiss Villas is a trusted source for quality vacation home rentals and property management. Founded in 1999 SunKiss Villas continues to grow and offers families beautiful vacation homes to make memories that will last a lifetime. Go to http://www.sunkissvillas.com for information on any of our Disney area vacation homes. "Your Disney World Vacation Starts Here!"