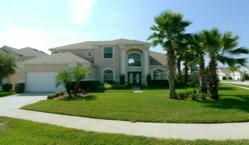 This is a win, win, win for SunKiss Villas, World-Village and our guests
Davenport, Florida (PRWEB) June 30, 2013
Trying to find and reserve a private vacation home can be a headache but SunKiss Villas has made it simple and easy to find the perfect, private vacation home near Disney World for a memorable, fun filled family vacation. SunKiss Villas has teamed up with World-Village.com to provide secure online reservations for the vacation homes they manage.
"We looked long and hard to find the best online reservation solution, even trying some of the larger, well known providers but had disastrous results. Then we stumbled across the people at World-Village who were in the process of developing a reservation system which could be used on any website. Unlike the big guys who insisted that they would host our site and have complete control over it, the World-Village system could be integrated into our existing website and we would keep complete management of our site. At the same time it provided search features, display options and much more. Basically everything we were looking for while still being able to control our own site," says Mark Douglas, CEO of SunKiss Villas.
SunKiss Villas partnership with World-Village has worked well. The system provides the guest with all the information they need to make an informed choice about any vacation home managed by SunKiss Villas. The system includes an availability search, property detail pages, including location maps, availability calendar, amenities list, description and more. SunKiss Villas has been able to integrate guest testimonials specific to each home into the description for that home as well. It is a nice blend of technologies.
"When our guests visit our website it is easy to find the home they are looking for, get all the details for any of our homes they are interested in and when they are ready it is very easy to make the reservation securely online. They can be sure they are getting the vacation home they wanted. Of course if they prefer to make the reservation by phone we are always happy to do that and our phone numbers are right there for them to call. We think the partnership has been a win, win, win for SunKiss Villas, World-Village and our guests," says Mark Douglas, CEO of SunKiss Villas.
SunKiss Villas – offering beautiful, private vacation home rentals near Disney World, Florida. Located in Davenport, Florida with an A+ rating from the Better Business Bureau of Central Florida, SunKiss Villas is a trusted source for quality vacation home rentals and property management. Founded in 1999 SunKiss Villas continues to grow and offers families beautiful vacation homes to make memories that will last a lifetime. Go to http://www.sunkissvillas.com for information on any of our Disney area vacation homes. "Your Disney World Vacation Starts Here!"
SunKiss Villas – Disney Vacation Home Rentals
433 Downing Circle
Davenport, FL 33897
Phone: 407-479-8580
Website: http://www.sunkissvillas.com