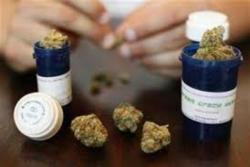 It is exciting watching new medical marijuana laws transforming the once slacker side job into a professional industry.
Los Angeles, CA (PRWEB) April 04, 2013
With the proliferation of medical marijuana friendly states, counties, and cities; the medical cannabis industry is exploding with peripheral businesses to support the growing number of dispensaries.
Traditional business models are now being transformed and used in the medical marijuana industry. Some examples are Weedmaps and Yelp, hydroponic shops and Lowes, Medbox and vending machines, Dispensary Depot and Office Depot, the list goes on. The next wave of the "green rush" has begun.
"We have seen a significant growth in the last 18 months. People are getting used to and accepting that seeing the green crosses and cannabis leaves on storefront signs as they drive to work or drop off their kids at school is not that big of a deal," said Jason Wolf, senior sales director at Dispensary Depot. "This has lead to more "regular" joes and janes opening their own dispensary or delivery service."
The mainstreaming of marijuana is creating more and more dispensaries to open and legions of people are getting prescriptions to participate legally.
The marijuana industry is still in its infant state, but the ecommerce sites and customer service of some of these emerging companies are acting more grown up these days. It is exciting watching new medical marijuana laws transforming the once slacker side job into a professional industry.
This means great news for patients everywhere. More professional services means more convenience and safety for the patients that need medical marijuana to relieve their pain. "It used to be impossible finding a decent dispensary for my needs, but now I just need a laptop and search sites like Weedmaps and THC Finder to find the best dispensaries," said a Los Angeles medical marijuana patient.
Dispensary Depot started selling marijuana bottles, bags, and labels out of a small apartment, and are now diversifying their product line with glass concentrate containers, doob tubes, pop top bottles, etc. to keep up with demand. With business booming, Dispensary Depot has moved from a 1,100 square foot facility to a 12,000 square foot fulfillment center in Commerce, Ca.
The future for these new companies look bright, especially if they remember the golden rule, the customer is always right.
About Dispensary Depot
Dispensary Depot provides dispensary supplies and services through their website and fulfillment facilities in Los Angeles with a dedicated sales force, top-rated products, and national e-commerce operations.
Dispensaries looking to find high quality dispensary supplies such as pharmacy grade bottles, pop top vials, concentrate containers, medical marijuana labels, pharmacy style bags,and joint tubes can find them at the largest dispensary supply store on the web. Dispensary Depot caters to thousands of medical marijuana dispensaries from California to New Jersey with more and more