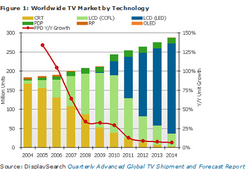 North America LCD TV sales have been weak in 2010 so far, falling 3% Y/Y on a unit basis during the first half of the year
Santa Clara, CA (Vocus) October 6, 2010
According to the latest DisplaySearch Quarterly Advanced Global TV Shipment and Forecast Report, total TV shipments in 2010 will reach more than 243 million units, a 16% increase from 2009. LCD TV shipments are expected to grow to 188 million units worldwide, up from 145 million units in 2009 as strong growth in Japan, Europe, and emerging markets like China offsets meager growth in North America.
"North America LCD TV sales have been weak in 2010 so far, falling 3% Y/Y on a unit basis during the first half of the year," noted Paul Gagnon, Director of North America TV Research for DisplaySearch.
"Continued economic pressure, mostly in the form of high unemployment and a weak housing market, have combined with a sharp slowdown in the pace of average price erosion have pushed consumers to the sidelines as they wait for the economy to improve, prices to fall further, or both," noted Gagnon.
LCD remains the dominant TV technology worldwide, accounting for at least half of all TV shipments in nearly every region. Although sales resulting from the World Cup were somewhat disappointing in Europe, and the resulting elevation of inventory at the end of summer will slow growth down in the second half, solid growth in other markets like Japan, China, Latin America, and Asia Pacific will offset this weakness and contribute to 20% Y/Y growth during the second half of 2010.
At the same time, LCD TV street prices are expected to start falling more vigorously in Q4'10, especially for LED-backlit LCD TVs as an oversupply of LCD TV panels resulted in falling panel costs during Q3'10. Consumers are very interested in LED LCD TV technology, but premiums were very high in early 2010. Manufacturers have greatly increased the assortment of LED LCD TVs in their line-ups, and consumers still seem to be waiting for premiums to fall on LED-backlit models. Sales of lower-priced CCFL-backlit LCD TVs continue to decline despite having much lower prices. DisplaySearch projects that average LED LCD TV prices will fall at twice the rate of CCFL LCD TV prices during Q4'10. This should cause an improvement in growth rate, particularly for North America.
DisplaySearch expects LED LCD TVs to account for the majority of LCD TV shipments in 2011, as the cost premium reduces quickly and manufacturers continue to transition their LCD TV lineups away from older CCFL technology. More than 50% of LCD TV shipments will be based on LED backlight technology in 2011, up from 20% in 2010.
Demand for plasma TV continues to be robust, as LCD TV price declines have slowed while plasma TV has maintained similar rates of price erosion. The result is that plasma TV shipments are now expected to approach 18 million units in 2010, a 25% increase from 2009, even though shipments actually declined Y/Y.
According to Hisakazu Torii, DisplaySearch Vice President of TV Research, "Because of the very strong pricing advantage of large screen sizes and large improvements in power consumption and thinness, plasma TV continues to be a key display technology in the TV category, especially among a base of fans that favor this technology for picture quality and 3D performance."
The DisplaySearch Q3'10 Quarterly Advanced Global TV Shipment and Forecast Report includes panel and TV shipments by region and by size for nearly 60 brands. Also included are rolling 16-quarter forecasts, TV cost/price forecasts, and design wins. This report is delivered in PowerPoint and includes Excel-based data and tables. For more information on this report, please contact Charles Camaroto at 1.888.436.7673 or 1.516.625.2452, or contact(at)displaysearch(dot)com. You can also contact your regional DisplaySearch office in China, Japan, Korea or Taiwan.
Register Now for Upcoming DisplaySearch Conferences
DisplaySearch Business Forum IMID 2010—October 13, 2010 (Seoul, Korea)
DisplaySearch Taiwan TV Supply Chain Conference—November 3, 2010 (Taipei, Taiwan)
DisplayForum 2010 (Presented by Meko and DisplaySearch)—November 2-3, 2010 (London, England)
For more information or to register online, visit http://www.displaysearch.com/events.
About DisplaySearch
Since 1996, DisplaySearch has been recognized as a leading global market research and consulting firm specializing in the display supply chain, as well as the emerging photovoltaic/solar cell industries. DisplaySearch provides trend information, forecasts and analyses developed by a global team of experienced analysts with extensive industry knowledge and resources. In collaboration with the NPD Group, its parent company, DisplaySearch uniquely offers a true end-to-end view of the display supply chain from materials and components to shipments of electronic devices with displays to sales of major consumer and commercial channels. For more information on DisplaySearch analysts, reports and industry events, visit us at http://www.displaysearch.com. Read our blog at http://www.displaysearchblog.com and follow us on Twitter at @DisplaySearch.
About The NPD Group, Inc.
The NPD Group is the leading provider of reliable and comprehensive consumer and retail information for a wide range of industries. Today, more than 1,800 manufacturers, retailers, and service companies rely on NPD to help them drive critical business decisions at the global, national, and local market levels. NPD helps our clients to identify new business opportunities and guide product development, marketing, sales, merchandising, and other functions. Information is available for the following industry sectors: automotive, beauty, commercial technology, consumer technology, entertainment, fashion, food and beverage, foodservice, home, office supplies, software, sports, toys, and wireless. For more information, contact us or visit http://www.npd.com and http://www.npdgroupblog.com. Follow us on Twitter at @npdtech and @npdgroup.
Media Contact:
Stacey Voorhees-Harmon
SAVVY Public Relations
925-336-9592
stacey(at)savvypublicrelations(dot)net
###