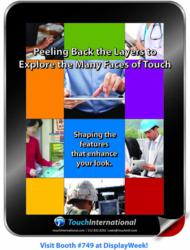 We are a little bit like the Subway of touch screens," says Woolstrum. "You pick your features, and we will build it.
Austin, TX (PRWEB) May 23, 2012
Helping OEMs and integrators build powerful touch screen displays that perform well in any environment, Touch International announced it will be showcasing its customizable cover glass options, display enhancements, touch screens and touch screen electronics at Display Week 2012, June 5-7 in Boston, MAS.
"We are a little bit like the Subway of touch screens," says Touch International CEO, Michael Woolstrum. "You pick your features, and we build it. With our new MulTI-Touch Baseline Series, we are often able to reduce the time, energy and money it typically takes to do a custom build."
At Display Week, attendees will be able to see how Touch International is able to mix and match touch screen and display enhancement components to fit individual projects and requirements, helping to maximize the time and money spent perfecting custom displays.
"This industry is constantly changing and evolving, and Display Week gives professionals a chance to learn about the latest market trends and developments," explains Woolstrum.
Specific technologies on display will include the company's industry-leading MulTI-Touch Projected Capacitive Touch Technology, with new customizable options, including ultra-thin PCB controllers and corresponding baseline sensors, and its Multi-Touch Analog Resistive (MARS) technology.
For more on Touch International, visit booth #749 at Display Week or go to http://www.touchinternational.com/SID2012.
About Display Week 2012
The 50th SID International Symposium, Seminar and Exhibition, dubbed Display Week 2012, will take place June 3-8, 2012, at the Boston Convention and Exhibition Center, Massachusetts. Display Week is the premier international gathering of scientists, engineers, manufacturers and users in the field of electronic-information displays. For more information on Display Week 2012, visit http://www.sid.org.
About Touch International
Touch International is the leading manufacturer of specialty touch screens and display enhancement windows, and is the largest touch producer in North America. The company is world-renowned for its expertise in optically clear touch panels, EMI filter technologies, and custom touch screen designs for military, aerospace, medical, transportation and retail applications. Touch International was first to produce the Apple iPhone-type projected capacitive touch screen, and also builds resistive sensors and glass filter products used in touch screens, display windows, anti-reflective and anti-vandal filters. The company is headquartered in Austin, Texas and has complementary sales and manufacturing facilities in Europe and Asia.