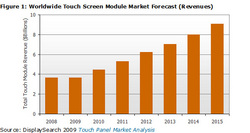 The industry's best and brightest in these hot market segments will come together during DisplaySearch's Emerging Display Technologies Conference to discuss strategies, opportunities and challenges in an effort to ensure the success of tomorrow's display technologies -- making it a must attend for all those looking to play a role in the future of displays
Austin, TX (Vocus) August 1, 2009
Emerging display technologies offer alternative performance, cost, design and business models to mainstream display technologies available today. From touch screens, flexible displays, OLED displays, epaper displays to pocket projectors and 3D displays, it's important to explore how new display technologies can bring innovative form factors, attractive visual performance, power savings and potentially drive growth in the near future. The DisplaySearch Emerging Display Technologies Conference: Innovation for the Next Wave of Growth, which will be held on September 3, 2009 in San Jose, California, will bring together representatives from all facets of the display supply chain to discuss the status of emerging technologies, as well as provide a forum for discussing how new display technologies can drive high growth in the near future.
"For a product to be successful in any kind of economic condition, it has to be either cheaper than competitive offerings or has to be highly differentiated. We've seen this firsthand with the success of display-centric products like Apple's iPhone and Amazon's Kindle, which feature next-generation display technologies like touch screens and electrophoretic displays," noted Dr. Jennifer Colegrove, Director of Display Technologies at DisplaySearch. "The industry's best and brightest in these hot market segments will come together during DisplaySearch's Emerging Display Technologies Conference to discuss strategies, opportunities and challenges in an effort to ensure the success of tomorrow's display technologies -- making it a must attend for all those looking to play a role in the future of displays," Dr. Colegrove added.
Sessions at the DisplaySearch Emerging Display Technologies Conference will address these hot topics:
Touch Screens
With touch screen revenues forecast to exceed $9 billion in revenue by 2015 (as shown in Figure 1), opportunities this segment are promising for new touch screen technologies reaching commercialization. Conference attendees will learn about the latest trends in touch screen markets and technologies in a dedicated morning session. Confirmed speakers for the touch sessions include

3M, N-trig, and NextWindow covering multi-touch and new touch applications
RPO, Stantum, GestureTek, and Senseg discussing new touch screen technologies, tactile feedback and solutions for the market
AU Optronics on in-cell touch, epaper and other new display technologies
Epaper, Flexible and Low Power Displays
Epaper, flexible and low power displays are taking off and applications such as ebooks, enewspapers, mobile displays, USB drives, shelf labels and wearable displays all show promise. Presentations in this session include

Low power reflective display solutions from Qualcomm MEMS Technologies
Epaper trends by E Ink
Low power transmissive displays from Pixtronix
Thin glass for display and touch screen applications by Corning
Electrowetting displays by Liquavista
OLEDs & OLED Lighting
According to DisplaySearch's latest research, the total organic light emitting diode (OLED) display market will grow from $0.6 billion in 2008 to $7.1 billion by 2016, at a CAGR of 36%. OLEDs have penetrated into the mobile phone, TV and recently the mini-note industries, and OLED lighting is evolving and will take off around 2011. Featuring presentations from companies including eMagin, participants will discuss the outlook for OLED as well as for OLED lighting.
Pocket Projectors and More
Whether it's for business road warriors or entertainment use, pocket projectors have made it possible to project a large image from a small device nearly anywhere. Despite this, battery life and brightness remain challenges for this emerging segment. Speakers in this session include representatives from

3M Innovation
Syndiant
Micron Technology
DisplaySearch's Emerging Display Technologies Conference: Innovation for the Next Wave of Growth will take place on September 3 in San Jose, California. To view the latest agenda and register for the conference visit http://www.displaysearch/emergingtech . Conference attendees will gain insight from the presentations and panel sessions, as well as DisplaySearch's latest market data and outlook for these segments.
This Emerging Display Technologies Conference: Innovation for the Next Wave of Growth is part of DisplaySearch's Fall Conference Series, taking place September 1-3 in San Jose, California. The series also includes these one-day conferences covering the display industry's hottest market segments:

Early registration for all three conferences ends on July 31. Receive a 20% discount when you register for more than one of our Fall Conferences.
For more information about these conferences and sponsorship opportunities, please contact Laura Castellano at 1.408.226.1101 or laura_castellano(at)displaysearch(dot)com. Media interested in attending the conferences should contact Stacey Voorhees-Harmon at 1.925.336.9592 or stacey(at)savvypublicrelations(dot)net.
About DisplaySearch
DisplaySearch, an NPD Group Company, has a core team of 57 employees, located in Europe, North America and Asia, who produce a valued suite of FPD-related market forecasts, technology assessments, surveys, studies and analyses. Visit the DisplaySearch blog to read about how our top analysts are interpreting up-to-the-minute issues that impact the display industry, and join us in this discussion about technology and the flat panel industry. The company also organizes influential events worldwide. Headquartered in Austin, Texas, DisplaySearch has regional operations in Chicago, Houston, Kyoto, London, San Diego, San Jose, Seoul, Shenzhen, Taipei and Tokyo, and the company is on the web at http://www.displaysearch.com/ .
About The NPD Group, Inc.
The NPD Group is the leading provider of reliable and comprehensive consumer and retail information for a wide range of industries. Today, more than 1,700 manufacturers, retailers, and service companies rely on NPD to help them drive critical business decisions at the global, national, and local market levels. NPD helps our clients to identify new business opportunities and guide product development, marketing, sales, merchandising, and other functions. Information is available for the following industry sectors: automotive, beauty, commercial technology, consumer technology, entertainment, fashion, food and beverage, foodservice, home, office supplies, software, sports, toys, and wireless. For more information, contact us or visit NPD.com and http://www.npdgroupblog.com/ . Follow us on Twitter at http://www.twitter.com/npdtech and http://www.twitter.com/npdgroup .
Follow DisplaySearch on Twitter at http://www.twitter.com/displaysearch .
Media Contact:
Stacey Voorhees-Harmon
Public Relations
Phone: 925-336-9592
E-mail: stacey(at)savvypublicrelations(dot)net
###