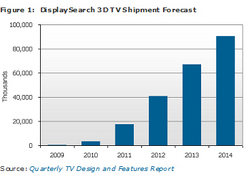 North American consumers in particular appear to be playing a waiting game
Santa Clara, CA (Vocus) October 13, 2010
3D TV is now readily available in retail, but the uptake among consumers has been limited by high prices and lack of content. However, with falling prices, increased content availability, and improvements in technology all expected, there will be tremendous growth in 3D TV shipments over the next few years. DisplaySearch forecasts that 3.2 million 3D TVs will be shipped in 2010, with growth to over 90 million in 2014. Based on this forecast, 3D will grow from 2% of all flat panel TVs shipped in 2010, to 41% in 2014. The emerging 3D TV market is tracked in the latest issue of the DisplaySearch Q3'10 Quarterly TV Design and Features Report.
"While TV manufacturers have bold plans and a lot of new products, consumers remain cautious," said Paul Gray, Director of TV Electronics Research. "Consumers have been told that 3D TV is the future, but there still remains a huge price jump and little 3D content to watch."
"North American consumers in particular appear to be playing a waiting game," noted Paul Gagnon, Director of North America TV Research. "Set makers have trained consumers to expect rapid price falls for new technology, and consumers seem happy to wait a little." As a result, DisplaySearch forecasts that 3D shipments in North America will be just under 1.6 million this year.
The Quarterly TV Design and Features Report results also found that sales of 3D glasses in Western Europe remain low, with most countries failing to achieve 1:1 sales of glasses to sets.
"This is particularly disappointing," noted Gray, "A healthy level would be closer to two pairs of 3D glasses per TV, so it's clear that these sets at best are being chosen for future-proofing, and at worst it's an indication that consumers cannot buy a premium set without 3D."
Nevertheless, 3D is a feature that set makers are determined to develop. 3D product choice is expanding fast with increased product launch plans and more set makers adding 3D. Rapidly expanding product offerings and 3D TV set prices have led DisplaySearch to increase its forecast for 3D in later years, with an anticipated 90 million sets being shipped in 2014.
"TV manufacturers strongly believe in 3D and are driving its cost downward, but its value to consumers relies strongly on the availability of quality material to watch," Gray concluded.
The DisplaySearch Quarterly TV Design and Features Report is a quarterly update of the rapid shifts in feature development in TV sets. The 200+ page report examines and forecasts video processor and signal processing IC market development, including 120/100 and 200/240 Hz frame rates and market shares for major IC vendors. In addition, the report also features forecasting for MPEG-4 decoding and the digital broadcast environment around the world; TV connectivity, such as wired and wireless networked TVs; LED backlighting; 3D capability and implementation; remote controls and chassis design; and power consumption. If you need further information or assistance please contact Charles Camaroto at 1.888.436.7673 or 1.516.625.2452, e-mail contact(at)displaysearch(dot)com or contact your regional DisplaySearch office in China, Japan, Korea or Taiwan.
Register Now for Upcoming DisplaySearch Conferences
DisplaySearch Business Forum IMID 2010—October 13, 2010 (Seoul, Korea)
DisplaySearch Taiwan TV Supply Chain Conference—November 3, 2010 (Taipei, Taiwan)
For more information or to register online, visit http://www.displaysearch.com/events.
About DisplaySearch
Since 1996, DisplaySearch has been recognized as a leading global market research and consulting firm specializing in the display supply chain, as well as the emerging photovoltaic/solar cell industries. DisplaySearch provides trend information, forecasts and analyses developed by a global team of experienced analysts with extensive industry knowledge and resources. In collaboration with the NPD Group, its parent company, DisplaySearch uniquely offers a true end-to-end view of the display supply chain from materials and components to shipments of electronic devices with displays to sales of major consumer and commercial channels. For more information on DisplaySearch analysts, reports and industry events, visit us at http://www.displaysearch.com. Read our blog at http://www.displaysearchblog.com and follow us on Twitter at @DisplaySearch.
About The NPD Group, Inc.
The NPD Group is the leading provider of reliable and comprehensive consumer and retail information for a wide range of industries. Today, more than 1,800 manufacturers, retailers, and service companies rely on NPD to help them drive critical business decisions at the global, national, and local market levels. NPD helps our clients to identify new business opportunities and guide product development, marketing, sales, merchandising, and other functions. Information is available for the following industry sectors: automotive, beauty, commercial technology, consumer technology, entertainment, fashion, food and beverage, foodservice, home, office supplies, software, sports, toys, and wireless. For more information, contact us or visit http://www.npd.com and http://www.npdgroupblog.com. Follow us on Twitter at @npdtech and @npdgroup.
Media Contact:
Stacey Voorhees-Harmon
SAVVY Public Relations
Phone: 925-336-9592
E-mail: stacey(at)savvypublicrelations(dot)net
###