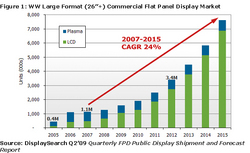 Digital signage is often associated with digital advertising, but other applications such as multi-use displays for mass transit, emergency response and general information notification on college campuses and electronic menu boards may offer even more growth potential in the near term as digital signage advertising models continue to develop
Austin, TX (Vocus) July 17, 2009
The large-format commercial display industry (more popularly known as digital signage) segment is one of the fastest growing in the flat panel display industry. The segment is forecast to grow at a 24% compound annual growth rate from 2007-2015 (as shown in Figure 1) and to exceed $6 billion in revenue by 2015. Despite this, the anticipated growth is not without it challenges. At DisplaySearch's upcoming Digital Signage Conference: Flat Panel Displays Go Out-of-Home, the industry's most pressing challenges and opportunities will be discussed by representatives from the entire supply chain, ranging from flat panel display manufacturers to companies already well-established in out-of-home environments and start-up companies.
"Digital signage is often associated with digital advertising, but other applications such as multi-use displays for mass transit, emergency response and general information notification on college campuses and electronic menu boards may offer even more growth potential in the near term as digital signage advertising models continue to develop," noted Chris Connery, DisplaySearch Vice President of Large Format Commercial Displays. "The use of digital displays, for information or for advertising, in out-of-home markets is on the rise worldwide."
Hot topics to be addressed during the Digital Signage Conference: Flat Panel Displays Go Out-of-Home
Stimulus Provides Opportunity for Digital Signage in Public Transportation
With an estimated $8.4 billion of the stimulus allotted to the Department of Transportation, there is likely to be a significant portion spent on IT, such as electronic public displays/digital signage. In addition, the need for consumers to reduce fuel consumption and pollution means more people are leveraging mass transit alternatives in metro areas. There are many projects deploying flat panel displays in public places on the drawing board, for advertising, train schedules, homeland security, subways/train stations, ferries or bus stops. Other large scale infrastructure overhauls are also helping to advance the conversion from printed poster boards to electronic digital signs. Vancouver, for example, is gearing up for the 2010 Winter Olympics with improvements to its mass-transit system already underway.
Will LCD & Plasma Move Outdoors?
Plasma and LCD technologies have built a solid reputation for indoor applications like TVs, monitors, notebooks and digital photo frames, among others. However, plasma and LCD manufacturers are now looking at opportunities afforded by digital signage, whether they are used in displays for bus shelters, outdoor train platforms, or city-centric way-finding or advertising on street furniture. These technologies still have some hurdles to overcome such as ruggedness, sunlight readability and weather resistance in order to succeed. Successful deployments of super-large-scale LED billboards can be seen throughout many major metropolitan areas, but replacements for the 65-85" 4-sheet to 6-sheet printed poster boards used for bus shelters have been difficult to match in an electronic format that works well outdoors using LCD or plasma. Advancements in ruggedization as well as tiling of these displays with more seamless integration techniques may now make these transitions easier and more affordable.
Implementing Touch Technology in Digital Signage
Touch interfaces have been successful in mobile phones, portable navigation devices, gaming and other applications due to the ease-of use and intuitive interfaces they enable. While some display vendors have been reluctant to allow the public to interact with their technology, new techniques to make these displays more robust and touch technology continues to improve, causing many to re-think prior conceptions. These technologies allow for displays to be "touched" while wearing gloves or even from a certain distance, making a digital touch display less intimidating.
Investing in Flat Panel Display Infrastructure
With LG Display investing in a Gen 8 LCD manufacturing facility and Sharp beginning production in the world's largest Gen 10 fabrication line, will TFT-LCD manufacturers look to digital signage to supplement TV demand? Can they enable the transition from traditional media advertising to the next level, ushering in an era of digital signage?
Who is Financing the Digital Infrastructure?
The big question is who will pay for digital signage infrastructure, especially in the digital advertising sector of the digital signage market? Will it be FPD manufacturers, banks, venture capitalists, media companies or others?
The DisplaySearch Digital Signage Conference: Flat Panel Displays Go Out-of-Home will take place on September 1 in San Jose, California--bringing together the world's largest flat-panel display vendors and partners with companies already well established in out-of-home environments, as well as brand new start-up companies that this brave new world of digital displays is helping to foster. Confirmed participating companies include HP, Ingram Micro, LG Display, Samsung Electronics America, Scala, National City Media Finance, Horizon Display, GDS, NEC and DisplaySearch, among others. To view the latest agenda and register for the conference visit http://www.displaysearch.com/digitalsignage2009 .
This is part of the DisplaySearch's Fall Conference Series, taking place September 1-3 in San Jose, California. The series also includes these one-day conferences covering the display industry's hottest market segments:

Receive a 20% discount on your registration fee is you register for more than one of our Fall Conferences!
For more information about these conferences and sponsorship opportunities, please contact Laura Castellano at 1.408.226.1101 or laura_castellano(at)displaysearch(dot)com. Media interested in attending the conferences should contact Stacey Voorhees-Harmon at 1.925.336.9592 or stacey(at)savvypublicrelations(dot)net.
About DisplaySearch
DisplaySearch, an NPD Group Company, has a core team of 57 employees, located in Europe, North America and Asia, who produce a valued suite of FPD-related market forecasts, technology assessments, surveys, studies and analyses. Visit the DisplaySearch blog to read about how our top analysts are interpreting up-to-the-minute issues that impact the display industry, and join us in this discussion about technology and the flat panel industry. The company also organizes influential events worldwide. Headquartered in Austin, Texas, DisplaySearch has regional operations in Chicago, Houston, Kyoto, London, San Diego, San Jose, Seoul, Shenzhen, Taipei and Tokyo, and the company is on the web at http://www.displaysearch.com/.
About The NPD Group, Inc.:
The NPD Group is the leading provider of reliable and comprehensive consumer and retail information for a wide range of industries. Today, more than 1,700 manufacturers, retailers, and service companies rely on NPD to help them drive critical business decisions at the global, national, and local market levels. NPD helps our clients to identify new business opportunities and guide product development, marketing, sales, merchandising, and other functions. Information is available for the following industry sectors: automotive, beauty, commercial technology, consumer technology, entertainment, fashion, food and beverage, foodservice, home, office supplies, software, sports, toys, and wireless. For more information, contact us or visit http://www.npd.com/ and http://www.npdgroupblog.com/ .
Follow DisplaySearch on Twitter at http://www.twitter.com/displaysearch
Media Contact:
Stacey Voorhees-Harmon
Public Relations
Phone: 925-336-9592
###