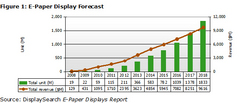 ) models went from one model in 2003-2004 to three in 2006, to about five in 2007. In 2009, the number of models jumped to about 20. The e-paper display market for e-books and e-textbooks (5-10
Austin, TX (Vocus) August 27, 2009
In its recently released E-Paper Displays Report, DisplaySearch forecasts that the total e-paper display market will grow to 1.8 billion units and $9.6 billion in revenues in 2018, from 22 million units and $431 million in revenues in 2009, for a CAGR (compound annual growth rate) of 41% for revenues and 64% for units.
The market for e-paper displays--which are found in e-books, e-textbooks, e-newspapers, e-magazines, mobile phones, electronic shelf labels, point-of-purchase and public signage displays, displays in smart and credit cards, clothes and other wearable items, and other applications--has taken off this past year, becoming one of the few shining stars in the economic downturn.
"E-paper displays are taking off with consumers due to their low power consumption and ease of reading, especially in sunlight," noted Jennifer Colegrove, Director of Display Technologies at DisplaySearch. "In addition, e-paper displays are 'green' because they reduce paper consumption, and electronic shelf labels can save time and labor costs by enabling dynamic pricing in stores."
E-book displays currently account for the majority of e-paper revenues. Nearly all e-book devices currently in the market use E Ink's electrophoretic display technology, with a small number--such as Fujitsu's FLEPia--using cholesteric LCD (liquid crystal display) technology. Other electrophoretic display suppliers SiPix and Bridgestone have announced that they will also commercialize e-book displays.
Additional findings from the DisplaySearch E-Paper Displays Report:

The number of e-book/e-text books (5-9.x") models went from one model in 2003-2004 to three in 2006, to about five in 2007. In 2009, the number of models jumped to about 20. The e-paper display market for e-books and e-textbooks (5-10") is forecast to grow from about 1 million units in 2008 to 77 million units in 2018.
Color e-book displays recently entered the market with Fujitsu's 8" FLEPia e-book. Due to the high price and technical challenges, DisplaySearch forecasts color e-books will not reach high volumes before 2011.
Electrophoretic was the leading technology in 2008, and DisplaySearch forecasts that the technology will continue to lead the e-paper display market growth for this forecast period, and reach $5.8 billion by 2018.
Bi-stable LCD was the second largest e-paper display technology by revenues in 2008; DisplaySearch forecasts this segment will reach $2.5 billion by 2018.
MEMS (micro-electro mechanical system) display technology will expand from small size mobile phone displays to color and medium size e-book displays over the next few years.
Electrochromic displays are targeting low-cost, high-volume smart label and card display applications. DisplaySearch forecasts that electrochromic will become the leading technology in terms of unit volume for e-paper displays by 2013.
The DisplaySearch E-Paper Displays Report is a comprehensive analysis of the e-paper display technologies and their market forecasts through 2018. The report profiles over 180 e-paper display related companies, with a breakdown by technology description of display, flexible substrates, electrode material, active matrix backplane, manufacture process, and supply chain. E-book product specifications are all provided in the report. The Excel database provides a pivot table with market forecast by unit, revenue, ASP, size, applications, two form factors (flexible or rigid), two driving methods (AM or PM/segmented), and six different display technologies: electrophoretic, electrochromic, bi-stable LCD, MEMs, electrowetting and others. This report also covers touch screens for e-paper displays and outlook on the touch screen penetration through 2018. Color e-paper display technology is also discussed, and color e-book and e-newspaper growth is forecasted through 2018. For more information on this report, please contact Charles Camaroto at 1.888.436.7673 or 1.516.625.2452, or [email protected] or contact your regional DisplaySearch office in China, Japan, Korea or Taiwan.
To find out more about what consumers say they want out of their e-book experience, read analysis of The NPD Group's E-readers Snapshot Report and insight from Ross Rubin on NPD's blog.
About DisplaySearch
DisplaySearch, an NPD Group Company, has a core team of 50 employees, located in Europe, North America and Asia, who produce a valued suite of FPD-related market forecasts, technology assessments, surveys, studies and analyses. Visit the DisplaySearch blog to read about how our top analysts are interpreting up-to-the-minute issues that impact the display industry, and join us in this discussion about technology and the flat panel industry. The company also organizes influential events worldwide. Headquartered in Austin, Texas, DisplaySearch has regional operations in Chicago, Houston, Kyoto, London, San Diego, San Jose, Seoul, Shenzhen, Taipei and Tokyo, and the company is on the web at http://www.displaysearch.com/. Follow us on Twitter at @DisplaySearch.
About The NPD Group, Inc.
The NPD Group is the leading provider of reliable and comprehensive consumer and retail information for a wide range of industries. Today, more than 1,700 manufacturers, retailers, and service companies rely on NPD to help them drive critical business decisions at the global, national, and local market levels. NPD helps our clients to identify new business opportunities and guide product development, marketing, sales, merchandising, and other functions. Information is available for the following industry sectors: automotive, beauty, commercial technology, consumer technology, entertainment, fashion, food and beverage, foodservice, home, office supplies, software, sports, toys, and wireless. For more information, contact us or visit http://www.npd.com/ and http://www.npdgroupblog.com/. Follow us on Twitter at @npdtech and @npdgroup.
Media Contact:
Stacey Voorhees-Harmon
Public Relations
Phone: 925-336-9592
###