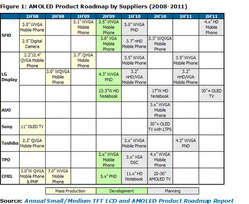 Small/medium TFT LCDs will experience dramatic changes over the next year, driven by market demand and the shift of larger fabs to production of small-medium panels
Austin, Texas (Vocus) August 20, 2009
DisplaySearch, the worldwide leader in display market research and consulting, released the 2009 edition of its unique Annual Small/Medium TFT LCD and AMOLED Product Roadmap Report--providing an analysis of the roadmaps for small/medium TFT LCD and AMOLED display products and technologies by applications.
"Small/medium TFT LCDs will experience dramatic changes over the next year, driven by market demand and the shift of larger fabs to production of small-medium panels," observed Hiroshi Hayase , Director of Small/Medium Displays Research.
While most AMOLED display developers are focused on mobile phones as their initial application, they have plans to move into notebook and TV panels in the future (Figure 1). The report describes the quickly changing AMOLED display market as well as related component technologies like driver ICs, glass substrates and touch panels.
Additional report highlights by application include

Mobile Phone: Mainstream sizes are in the range of 1.8 - 2.4", but 3.0"+ is growing fast. Smart phones are driving growth in screen size, as well as the development of new technologies including slim panel designs for better form factor, high resolution (HD, 720p and WVGA), and reduced power consumption for multimedia usage. In addition to existing features like transflective and wide viewing angle, technologies being developed include ALS (ambient light sensor), CABC (content-adaptive backlight control) and in-cell touch.
Digital Still Camera: Sizes range from 2.4" to 3.5", and are shifting to wide aspect ratios for sharing and HD format for better reality. Production is mainly in Gen 2 through Gen 3.5 fabs, but Gen 4 production is coming.
Digital Photo Frame: Sizes range between 5.6" and 10.2". Production is moving to Gen 5, LED backlighting for lower power consumption is increasing, and new driver ICs are being adopted for lower cost. The market is dominated by InnoLux, CPT and HannStar, but LG Display is working on mirror functionality, which is an innovative technology for digital photo frames.
Portable Navigation Device: Sizes range between 3.5 and 7". The market is dominated by Samsung, Sharp and AUO. Display formats are shifting to WVGA and WQVGA. New technologies are being adopted, including LED backlight, hTSP (hybrid touch screen panel) and dual gate driver ICs.
Automobile: The mainstream size range is 7-10". LED backlight and touch panel integration are increasing. A new trend is round panels, designed to fit with other dashboard gauges.
Mobile Internet Device: LED backlight and WVGA and WSVGA resolution are the focus areas.
Industrial (including POS and ATM): Product differentiation is based features like LED backlight (NEC, Sharp and Toshiba), high luminance (NEC and LG Display), sunlight readability (AUO) and long lifetime (Toshiba).
The Annual Small/Medium TFT LCD and AMOLED Product Roadmap Report is the industry's only research offering that describes the product plans of suppliers of small/medium displays. In the report, DisplaySearch profiles 19 key suppliers by their LCD and AMOLED display products. The report covers nine applications (including mobile phones, PDAs, digital still camera, digital photo frames, MID, portable navigation devices, automotive monitors and others) involving displays ranging in size from 1.5" to 10.4". The report provides an overview of LCD products by application, and describes each supplier's plans by application, product types, display size, and resolution. The report also reveals new technologies that are gradually being integrated into small/medium TFT LCDs, such as touch panels, CABC & ALS, narrow bump pitch driver IC, triple- or dual-gate driver IC, higher resolution, glass thinning, and silicon on glass.
The Annual Small/Medium TFT LCD and AMOLED Product Roadmap Report delivers exceptional value to product managers, marketers and planners among suppliers and buyers of small and medium displays for applications. For more information on the Annual Small/Medium TFT LCD and AMOLED Product Roadmap Report, Charles Camaroto at 1.888.436.7673 or 1.516.625.2452, e-mail contact(at)displaysearch(dot)com or contact your regional DisplaySearch office in China, Japan, Korea or Taiwan.
About DisplaySearch
DisplaySearch, an NPD Group Company, has a core team of 50 employees, located in Europe, North America and Asia, who produce a valued suite of FPD-related market forecasts, technology assessments, surveys, studies and analyses. Visit the DisplaySearch blog to read about how our top analysts are interpreting up-to-the-minute issues that impact the display industry, and join us in this discussion about technology and the flat panel industry. The company also organizes influential events worldwide. Headquartered in Austin, Texas, DisplaySearch has regional operations in Chicago, Houston, Kyoto, London, San Diego, San Jose, Seoul, Shenzhen, Taipei and Tokyo, and the company is on the web at http://www.displaysearch.com/ .
About The NPD Group, Inc.
The NPD Group is the leading provider of reliable and comprehensive consumer and retail information for a wide range of industries. Today, more than 1,700 manufacturers, retailers, and service companies rely on NPD to help them drive critical business decisions at the global, national, and local market levels. NPD helps our clients to identify new business opportunities and guide product development, marketing, sales, merchandising, and other functions. Information is available for the following industry sectors: automotive, beauty, commercial technology, consumer technology, entertainment, fashion, food and beverage, foodservice, home, office supplies, software, sports, toys, and wireless. For more information, contact us or visit http://www.npd.com/ and http://www.npdgroupblog.com/. Follow us on Twitter at @npdtech and @npdgroup.
Follow DisplaySearch on Twitter at displaysearch
Media Contact:
Stacey Voorhees-Harmon
Public Relations
Phone: 925-336-9592
# # #