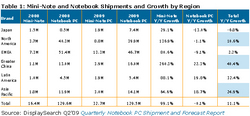 Mini-notes are forecast to continue to be a significant portion of the market. However, as display sizes of these devices have quickly moved from 7.0
Austin, Texas (Vocus) July 14, 2009
DisplaySearch expects shipments of almost 33 million mini-notes (netbooks) in 2009 as penetration of these products into the notebook PC market grows to 20% worldwide, according to its Quarterly Notebook PC Shipment and Forecast Report. At the same time, DisplaySearch expects the market for "traditional" notebooks (those with displays 12.1" and larger) to be flat Y/Y for the first time (see Table 1).
Penetration rates for mini-notes are forecast to exceed 26% in Latin America, and 22% in EMEA (Europe, the Middle East, and Africa), with the lowest penetration rates in Asia-Pacific, North America and China.
In emerging markets like Latin America, the low prices of mini-notes offer a more affordable product. In 2008, 45% of all mini-notes were shipped into EMEA markets. While this figure is forecast to drop to 40% in 2009, this share is well in excess of the region's total share of the notebook PC market.
In many regions, telecom providers have been offering subsidized mini-notes for several quarters, which helped propel growth. In North America, the three largest telecom providers (AT&T, Sprint and Verizon) are aggressively marketing mini-notes. As smart phone penetration continues to increase in North America (and a number of other regions), it will become increasingly necessary for telecoms to find their next revenue stream as the incremental revenue increase from smart phone subscribers slows.
Penetration of mini-notes is one of the primary factors behind DisplaySearch's expectations of flat Y/Y demand for notebook PCs. The other factor is a dramatic reduction in demand from enterprise customers. Businesses responded quickly to the economic downturn by cutting purchasing, especially of expensive IT-related products. DisplaySearch believes that there is significant pent-up demand in the B2B market as many enterprises did not upgrade from Windows XP to Vista. The launch of Windows 7 in late October this year, if combined with economic recovery, could lead to a rapid recovery in enterprise notebook PC demand; however, DisplaySearch does not expect this to occur until 2010.
In its Q2'09 Quarterly Notebook PC Shipment and Forecast Report, DisplaySearch analyzes the breadth and depth of mini-note and notebook PCs demand in the major geographic regions, and identifies the key variables influencing changing demand patterns in these markets.
"Mini-notes are forecast to continue to be a significant portion of the market. However, as display sizes of these devices have quickly moved from 7.0" to 8.9" to 10.1", and now with the emergence of 11.6" and 12.0" mini-note products, it is clear that buyers want a light-weight device, but that they also want a bigger display. While these devices have certainly created a new market, our research indicates that they are predominantly used as secondary PCs by consumers, and are not replacing notebooks," said John F. Jacobs, Director of Notebook Market Research and author of the report.
The DisplaySearch Quarterly Notebook PC Shipment and Forecast Report is a comprehensive and exclusive compilation of market data from DisplaySearch's industry sources, along with insightful analysis of the state of the notebook PC industry. For information on this DisplaySearch report, please contact your DisplaySearch sales representative for more details. If you need further information or assistance, contact Charles Camaroto at 1.888.436.7673 or 1.516.625.2452, e-mail contact (at) displaysearch (dot) com or contact your regional DisplaySearch office in China, Japan, Korea or Taiwan.
Register now for DisplaySearch's Fall Conference Series, taking place September 1-3 in San Jose, California. DisplaySearch will host three, one-day conferences covering the display industry's hottest market segments:

For more information about these conferences and sponsorship opportunities, please contact Laura Castellano at 1.408.226.1101 or laura_castellano (at) displaysearch (dot) com. Media interested in attending the conferences should contact Stacey Voorhees-Harmon at 1.925.336.9592 or Stacey (at) savvypublicrelations (dot) net.
About DisplaySearch
DisplaySearch, an NPD Group Company, has a core team of 57 employees, located in Europe, North America and Asia, who produce a valued suite of FPD-related market forecasts, technology assessments, surveys, studies and analyses. Visit the DisplaySearch blog to read about how our top analysts are interpreting up-to-the-minute issues that impact the display industry, and join us in this discussion about technology and the flat panel industry. The company also organizes influential events worldwide. Headquartered in Austin, Texas, DisplaySearch has regional operations in Chicago, Houston, Kyoto, London, San Diego, San Jose, Seoul, Shenzhen, Taipei and Tokyo, and the company is on the web at http://www.displaysearch.com/.
About The NPD Group, Inc.
The NPD Group is the leading provider of reliable and comprehensive consumer and retail information for a wide range of industries. Today, more than 1,700 manufacturers, retailers, and service companies rely on NPD to help them drive critical business decisions at the global, national, and local market levels. NPD helps our clients to identify new business opportunities and guide product development, marketing, sales, merchandising, and other functions. Information is available for the following industry sectors: automotive, beauty, commercial technology, consumer technology, entertainment, fashion, food and beverage, foodservice, home, office supplies, software, sports, toys, and wireless. For more information, contact us or visit http://www.npd.com/ and http://www.npdgroupblog.com/.
Media Contact:
Stacey Voorhees-Harmon
Public Relations
Phone: 925-336-9592
E-mail: stacey (at) savvypublicrelations (dot) net
###