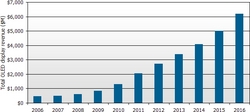 in 2009. LG Display is mass-producing small-size AMOLED, and has announced that it will mass-produce 15
Austin, TX (Vocus) September 29, 2009
In its latest Quarterly OLED Shipment and Forecast Report, DisplaySearch reported that worldwide OLED revenue has set a new record, with $192 million in revenue for Q2'09, up 32% Q/Q and 22% Y/Y. DisplaySearch forecasts the total OLED display market will grow to $6.2 billion by 2016 from $0.6 billion in 2008, with a CAGR of 33%. Mobile phone main displays will be the leading application with revenues of about $3 billion in 2016; OLED TV will be the second largest application, with revenues of about $2 billion in 2016.
AMOLED shipments grew due to strong mobile phone main display shipments. This is due to promotion of AMOLED mobile phones by Samsung Electronics, Nokia and Sony Ericsson in the first half of 2009. More than 15 mobile phone models with AMOLED main displays were released in 2009.
PMOLED maintained its unit shipment leadership in the OLED display market. After a weak Q1'09, PMOLED shipments stabilized in Q2'09 due to growth in mobile phone sub-display applications.
Samsung Mobile Display (SMD) had a strong Q2'09, and as a result, it maintained the #1 position in shipment with 38% market share, followed by RiTdisplay at #2.
"AMOLED displays have become an important differentiating feature for high end electronic products," noted Jennifer Colegrove, PhD, Director of Display Technologies at DisplaySearch. "This technology is not only used for mobile phone main displays, but has also penetrated the market for portable media players, digital still cameras and other applications. There will be about 20 new or upgraded AMOLED production lines installed or upgraded worldwide in the next three years," Colegrove added.
OLED manufacturers are planning to make TV panels larger than 11" in 2009. LG Display is mass-producing small-size AMOLED, and has announced that it will mass-produce 15" AMOLED panels for TV application at the end of 2009. LG Electronics will commercialize 15" OLED TV sets for the holiday season, while Sony's 20"+ OLED TV announced in 2008 will not reach the market in 2009.
With technology improvements, DisplaySearch forecasts AMOLED will enter more medium- and large-size applications (Figure 2). Notebooks are an attractive area starting in mid 2010, with mini-notes (netbooks) expected to be in production by end of 2010. 20-29" OLED TVs will enter market by the end of 2010, with 30" and larger TVs forecast to enter the market in late 2011.
The DisplaySearch Quarterly OLED Shipment and Forecast Report includes shipments by each supplier; AMOLED vs. PMOLED; small molecule vs. polymer; monochrome vs. area color vs. full color; and shipments by application, such as mobile phone main display, sub-display, mini-note, notebook PC, TV, MP3, auto console, car audio, digital still camera and near-eye. It also shows capacity plans by supplier and has a comprehensive supply/demand forecast. This report is delivered in PowerPoint and includes Excel pivot tables. If you need further information or assistance please contact Charles Camaroto at 1.888.436.7673 or 1.516.625.2452, e-mail contact@displaysearch.com or contact your regional DisplaySearch office in China, Japan, Korea or Taiwan.
About DisplaySearch
DisplaySearch, an NPD Group company, has a core team of 50 employees, located in Europe, North America and Asia, who produce a valued suite of FPD-related market forecasts, technology assessments, surveys, studies and analyses. Visit the DisplaySearch blog to read about how our top analysts are interpreting up-to-the-minute issues that impact the display industry, and join us in this discussion about technology and the flat panel industry. The company also organizes influential events worldwide. Headquartered in Austin, Texas, DisplaySearch has regional operations in Chicago, Houston, Kyoto, London, San Diego, San Jose, Seoul, Shanghai, Shenzhen, Taipei and Tokyo, and the company is on the web at http://www.displaysearch.com/. Follow us on Twitter at @DisplaySearch.
About The NPD Group, Inc.
The NPD Group is the leading provider of reliable and comprehensive consumer and retail information for a wide range of industries. Today, more than 1,700 manufacturers, retailers, and service companies rely on NPD to help them drive critical business decisions at the global, national, and local market levels. NPD helps our clients to identify new business opportunities and guide product development, marketing, sales, merchandising, and other functions. Information is available for the following industry sectors: automotive, beauty, commercial technology, consumer technology, entertainment, fashion, food and beverage, foodservice, home, office supplies, software, sports, toys, and wireless. For more information, contact us or visit http://www.npd.com/ and http://www.npdgroupblog.com/. Follow us on Twitter at @npdtech and @npdgroup.
Media Contact:
Stacey Voorhees-Harmon
Public Relations
Phone: 925-336-9592
###