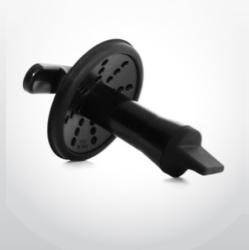 Elk Grove Village, IL (PRWEB) April 26, 2011
Adults rarely think twice before sticking their hands in a stopped garbage disposal to retrieve a dropped fork, wine cork or wedding ring. After all, if the disposal isn't running, what can really go wrong?
Children learn by observing adults. This was DISPOSE-IT-GUARD® designer T.J. Dombrowski's motivation for creating the ultimate garbage disposal accessory. Dombrowski, whose kitchen was regularly a meeting spot for neighborhood children to learn to cook, says, "I was helping them peel all the veggies into the sink, which had a disposal. I turned on the faucet and the disposal, and used my fingers to push the peelings into the disposal. I looked up and the children were watching what I was doing. It frightened me! Their hands were small enough to go all the way into the disposal!" This became a major concern for Dombrowski and he knew he had to do something about it. "There weren't the right garbage disposal accessories out there. I made it my goal to prevent childhood injuries due to garbage disposals. Every day that went by without a proper drain cover was another day that something terrible could happen."
Parents want children to learn to clear their plates in the sink, rinse them off, put them in the dishwasher, etc. But with the risk garbage disposals pose for small hands, loose clothing and long hair, is it worth the risk?
Fortunately, Dombrowski saw his inspiration through, and now parents can rest easy while supervising their child rinsing their dishes. DISPOSE-IT-GUARD by Disposal Guard Inc. is a heavy duty stopper/strainer that is used in place of a garbage disposal stopper. But it's more than just a stopper – DISPOSE-IT-GUARD is a stopper, strainer, safety poker and scraper all in one! A simple twist of the uniquely designed T-handle opens or closes the strainer, while the plunger is designed to avoid all contact with the garbage disposal blades even while it's running.
DISPOSE-IT-GUARD is 100% made in America and after two years of product testing, Disposal Guard Inc. and T.J. Dombrowski himself proudly and confidently stand behind their quality product. DISPOSE-IT-GUARD is available to purchase on DisposalGuard.com, Amazon.com and select home and hardware stores nationwide.
MSRP $16.95
About Disposal Guard Inc:
Safety & Convenience Made Simple®. Disposal Guard Inc. is based in Elk Grove Village, IL. The DISPOSE-IT-GUARD all-in-one sink stopper, strainer, safety poker and the scraper is 100% manufactured in the US. For more information please visit http://www.DisposalGuard.com.
###