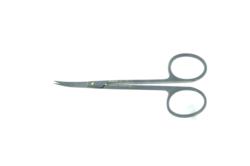 Gaithersburg, MD (PRWEB) June 07, 2012
Roboz lists more than 1000 instruments in its catalog but researchers rarely have a chance to become familiar with new products. Visitors of the Colorado BioResearch Product Faire shows will have the opportunity next week to see how instruments feel in the hand – something that cannot be gauged by looking at pictures in a catalog. New dissecting scissors and Vannas spring scissors with special blades will be displayed and Roboz representatives will answer questions about particular applications.
The first exhibition will be at the National Jewish Health Medical and Research Center on June 11, 2012, from 11:00 – 1:30 pm. The following day, Tuesday, June 12, 2012, Roboz will be exhibiting from 10:00am to 2:30pm at the University of Colorado Anschutz Medical Campus. BioResearch Product Faire exhibitions will then move to Boulder where the event will be at the University of Colorado, Boulder from 10:00am to 2:30pm on June 13, 2012. There will be two more shows hosted by the Colorado State University. One will be at the Fort Collins campus on June 14, 2012 and the other at the Foothills Research Campus on June 15, 2012. Both events open at 11:00 am close at 1:30 pm.
The events are designed to allow researchers to become familiar with the latest research tools and services and to talk about them with the representatives of exhibitors, while enjoying a free, catered lunch. Companies display their latest offerings to hundreds of scientists in an informal and relaxed atmosphere.
Principal investigators, program administrators, research administrators, graduate students, post-docs, research associates, and purchasing staff are all encouraged to attend.
Local life science professionals may register up until the day of the event. Others may need to register for these events in advance with the organizer, Biotechnology Calendar, Inc.
ABout Roboz: Roboz Surgical is a leading supplier of superior quality surgical instruments and related products for the biomedical and life science research industry. The company offers over 1000 fine surgical instruments including a wide variety of tweezers and forceps, scissors, scalpels, bone instruments, retractors, surgical and vascular clips and clamps, wound closure and vascular access instruments, instrument care and handling products. Roboz Surgical is based in Gaithersburg, MD.