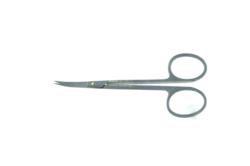 Gaithersburg, MD (PRWEB) May 07, 2012
Roboz Surgical launched the smallest dissecting scissors with tungsten carbide-reinforced and ceramic coated blades on the market today. The new scissors offer increased durability as well as improved precision.
Tungsten carbide, sometimes referred to as "man-made diamond," is one of the hardest materials known and is five times harder than stainless steel. Its hardness means that scissors with tungsten carbide blade inserts last much longer than stainless steel scissors, and keep their razor-sharp edge to allow for smooth cuts even after prolonged use. Almost impervious to corrosion, these tough inserts are micro-bonded to the scissor blades to provide years of increased performance.
Ceramic-coated scissors combine the best design and material properties to provide exceptional cutting ability with incredible durability. They also have tungsten carbide blades, which are made even harder by the ceramic coating. One blade is serrated and the other is razor-sharp: together they prevent tissue slippage and cut effortlessly. One thing that is immediately noticeable is how smoothly the scissors work as the ceramic coating is minimizing friction between the blades. Astonishingly, these scissors last up to six times the usual shelf life of standard stainless steel scissors.
The short (15mm) blades of these dissecting scissors are perfect for exacting procedures that require precise, gentle cuts. A particular application is the extraction of mouse brain. The short blades prevent damage to the brain while opening the skull, and the hardness of tungsten carbide makes it a superior tool for snipping bone. Other applications include piercing the trachea part way to insert a catheter for bronchoalveolar lavage, lymph node harvests, oviduct harvest and of course many others. Small blades make it easier to accurately judge the depth of penetration in any surgical situation to prevent damage to surrounding structures. Tungsten carbide scissors are also especially good for cutting cartilage or for repetitive cuts such as in necropsy studies.
About Roboz: Roboz Surgical is a leading supplier of superior quality surgical instruments and related products for the biomedical and life science research industry. The company offers over 1000 fine surgical instruments including a wide variety of tweezers and forceps, scissors, scalpels, bone instruments, retractors, surgical and vascular clips and clamps, wound closure and vascular access instruments, instrument care and handling products. Roboz Surgical is based in Gaithersburg, MD.