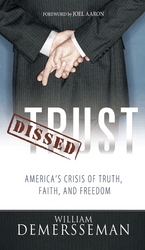 The Loss of Trust and the Great Unraveling to Come.
Atlanta, Ga. (Vocus) October 28, 2010
A Business Insider article about government's betrayal of the American people's trust, published October 18, 2010, was headlined, "The Loss of Trust and the Great Unraveling to Come." When William DeMersseman began writing about America's integrity deficit, the political culture of corruption, and the consequent epidemic of distrust debilitating the U.S. at every level of society, he never dreamed it would become so suddenly, crushingly personal. The same morning his editor completed her work on the manuscript, DeMersseman received word that his brother David had been brutally murdered when an armed gunman held up a Waffle House restaurant in Baton Rouge, La.
Dissed Trust: America's Crisis of Truth, Faith, and Freedom (published by WestBow Press), examines the groundswell of distrust, and its roots, currently reshaping America's landscape. According to DeMersseman, the lack of integrity in society, especially in the federal government, requires a response from citizens who want to see the nation restored to constitutional governance, sound fiscal policy, and an earned level of trust.
"Because trust issues resonate in every person's life every day, I believe the theme of integrity is an interesting one for a wide range of readers," said DeMersseman. "Likewise, as the federal government expands and wields ever greater power, Washington's corruption increasingly impacts all Americans and threatens the financial and political security of future generations."
In Dissed Trust, DeMersseman, a United Methodist pastor and former attorney, analyzes the political, economic and social upheavals fueling the Tea Party movement, which include: the insanely escalating national debt, the subversion of the Constitution and the rule of law, the arrogant failure of political leadership and the pervasive assault on truth, trust, honor, faith, freedom and civility. This book is for anyone who senses that America is in a fight for its survival as a land of freedom and opportunity for all, and that at the core of that fight is the battle for truth and integrity.
About The Author
William DeMersseman is one of six children raised in the south in a close-knit family. His parents' Christian faith and their active participation in the local United Methodist church were central to his upbringing. DeMersseman's dissatisfaction in the legal profession prompted a self-examination leading to his transition from attorney to pastor. He is an honors graduate of both the University of Georgia School of Business and the University of Georgia School of Law. DeMersseman, who also holds a Master of Divinity from Asbury Theological Seminary, lives in Georgia with his wife and two children. William can be visited on the Web at http://www.dissedtrust.com.
About WestBow Press
WestBow Press is a strategic self-publishing alliance of Thomas Nelson, the world's premier Christian publisher, and Author Solutions, Inc. (ASI), the world leader in the fastest-growing segment of publishing. For more information, visit http://www.westbowpress.com.
###