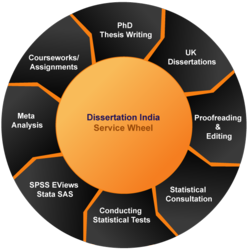 Launching the service, Mr. Anuj Arora, Director, said that there will be a well planned procedure followed for defense preparation
(PRWEB) April 15, 2013
Dissertation India has introduced an innovative service for Thesis Defense preparation, which will be available from 1 May, 2013. Registrations with the company for availing the service are open, and students may send in their requests at kalpesh(at)dissertationindia(dot)net. Since this will be a highly personalized service, there is limited availability and students are advised to place an order well in time to get the maximum benefit.
The quality of service offered by the company is already tried and tested since it's MBA thesis writing service has been extremely popular for more than a decade. The company is hoping to enhance its market share by launching this unique service, and at the same time assist students to make the best impression on defense committees. Launching the service, Mr. Anuj Arora, Director, said that there will be a well planned procedure followed for defense preparation. Students will be asked to submit the research documents, along with any feedback that they have already got from the supervisors. Based on an assessment of these reports, the mentors will plan a line of action for helping students gear up for defense.
The team will advise students on presentation skills, props to be carried when they go for defense, and the inputs that will impress a review committee. They will also provide a list of likely questions and their best answers. Mock interviews and defense sessions will be held over Skype to give students a real time feel. Thus, the mentors will take all steps to boost the confidence of scholars and help them avoid any mistakes. Staying prepared for the worst is the key to defense preparation, and Dissertation India hopes for the best as far as response to this service is concerned.
About us:
Dissertation India is a unit of Regent Research Writing Private Limited, and offers trustworthy services to research scholars. The team of academic writers and subject matter experts can be reached by calling 0091-11-4568-0335. Students can also send a query at the site http://www.dissertationindia.net to get a quick response.