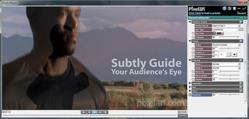 With DissolveMaster, users can quickly and easily customize dissolves and fades in useful ways never before possible.
Bellingham, WA (PRWEB) November 27, 2012
Pixelan Software, celebrating its 17th year as a popular developer of video effects plugins and video transitions plugins, released today its DissolveMaster video transitions plugin for Adobe Premiere Pro, Adobe Premiere Elements, Sony Vegas Pro, and Sony Vegas Movie Studio. The all-new hardware-accelerated effects plugin is designed to be the ultimate tool to create dissolves and fades of all types including film dissolves, soft directional dissolves, blur dissolves, glow dissolves, flash dissolves and beautiful dissolve transitions never before possible.
Unlike basic cross-dissolve and film dissolve transitions built into Adobe Premiere and Sony Vegas, the DissolveMaster transitions plugin can customize the dissolve look and flow to subtly emphasize a scene's main subject or action as desired. Adobe Premiere and Sony Vegas videographers get new ways to gently lead their audience's eye within a scene using the unobtrusive, clean aesthetic of the dissolve transition.
Nearly 500 customizable effect presets are provided, which can be reviewed and compared easily in a large animated Effects Browser window. For further customization, users can simply click in their preview to set the start or end location of the dissolve transition, then adjust keying, softness, shape, blend, glow, saturation, and blur effect controls in the DissolveMaster transitions plugin to fine-tune the dissolve transition further. Never before has this level of customization been available with dissolve transitions in such an affordable plugin.
Importantly to video editors on a deadline with their video production, DissolveMaster's hardware-acceleration utilizes the user's video card to ensure speedy previewing and rendering. On faster video editing systems, the transitions plugin will approach real-time performance.
DissolveMaster is also more than a video transitions plugin -- it can organically animate/flow any video effect within a single clip, such as color changes, tonal adjustments, blurs, and other visual effects, even those from other third-party video effects plugins.
Michael Feerer, Founder and President of Pixelan, says "With DissolveMaster, users can customize dissolves and fades quickly and easily in useful ways never before possible. Considering how frequently dissolves appear in film and video productions as well as motion graphics work, this new plugin gives editors a powerful, fast new tool with everyday benefits. And it's priced to be within virtually everyone's budget." Michael also noted that an Adobe After Effects version of the DissolveMaster video transitions plugin will arrive soon. Users can go to http://www.pixelan.com to sign up to be notified when the Adobe After Effects version is released.
More information, cool movie examples, tutorials, and a demo version of the plugin are all available at DissolveMaster video transitions plugin info The DissolveMaster transitions plugin's price is $49 and the plugin is available now for purchase directly from Pixelan's web site. As an introductory special through the year-end holidays, DissolveMaster will be temporarily priced at $39.
ABOUT Pixelan Software -- Pixelan is one of the longest-established video effects plugin developers in the world and is celebrating its 17th year. Pixelan provides affordable, easy-to-use, useful video effects plugins and video transitions plugins for popular video editing software such as Adobe Premiere Pro, Adobe Premiere Elements, Adobe After Effects, Sony Vegas Pro, Sony Vegas Movie Studio, and Microsoft Windows Movie Maker. Pixelan video effects and video transitions are used by more than 250,000 videographers and filmmakers worldwide. For additional info, please visit http://www.pixelan.com
Pixelan Software and DissolveMaster are trademarks of Pixelan LLC. All other trademarks are the trademarks or registered trademarks of their respective owners.