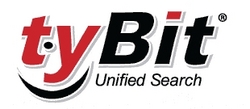 We are very happy to have formed this partnership with Moodlerooms
Fayetteville, NC (Vocus) March 13, 2009
tyBit search engine has formed a strategic alliance with Moodlerooms to deliver a private-label search engine application within the Moodle Learning Management System (LMS). Moodlerooms provides Moodle solutions to more than 480 clients including Louisiana State University (LSU), The California State University, Cisco, Sun and many K-12 Schools and Districts. Moodlerooms provides hosting, implementation, support, training and customization services for the open source software platform Moodle, the world's most widely used LMS and the perfect choice for higher education and corporations providing e-learning solutions. "We are thrilled to be partnering with tyBit." said Martin Knott, CEO of Moodlerooms. "The relationship will afford our clients the ability to offer their students a robust tool that will enhance their educational experience".
tyBit Unified Search provides a comprehensive search of the Internet and delivers targeted PPC, banner and video ads. tyBit has its own index plus combines the data from multiple search engines and indices delivering ultra-relevant results based on user preference, multiple sources, geographic location and time. "We are very happy to have formed this partnership with Moodlerooms," said Kitti Jo Finch, GM of tyBit. "They are a great company that provides services for an open source tool and when combined with the search technology of tyBit, it creates a very powerful Internet research platform. Students will be able to search the web through tyBit right from Moodle and use the results to facilitate their distance learning experience."
Students will find tyBit an excellent addition to the learning platform. The tyBit toolbar incorporates itself perfectly into the Microsoft Office Suite giving students the ability to search all major search engines at one time from inside Office. After downloading the toolbar, students will find a tyBit search box on Office's Add-on tab. This allows students to save time while they research and helps them find more information in one place. They can then bring the information back into their assignments and return to the important task of studying. tyBit not only combines Web searches but also provides the students with a Shop feature that combines five shopping sites that they can use to shop for supplies or anything else they need on the Internet quickly and get back to their schoolwork in less time.
AIT, an affiliated tyBit company that focuses on Web hosting, has been chosen as The Moodlerooms Office of North Carolina. AIT was founded by Clarence Briggs, a former Army Infantry Officer in 1996. "I think the military could find a use for Moodlerooms," said Briggs. "They have distance learning and training needs too." AIT is a two-time INC 500 and three-time Deloitte & Touché recipient in addition to being named the entrepreneurial company of the year for NC. AIT offers domain registration services, Web hosting and Web site development. AIT will provide 24 hour support for the Moodlerooms clients collaborating with the existing Moodlerooms support locations and staff.
tyBit and AIT extend the partnership that Moodlerooms developed with Sun Microsystems, which created a hosting solution that scales to one million concurrent users. All Moodlerooms installations are run on an optimized Moodle platform that is fully maintained and supported by Moodlerooms professionals. In addition to hosting, Moodlerooms offers training, user support and customization services to provide a solution that works for everyone from an individual teacher to a corporation with over 100,000 employees.
Contacts:
Kitti Jo Finch
General Manager
tyBit, Inc.
421 Maiden Lane
Fayetteville, NC 28301
Office: 910-222-4465
Judson Aungst
Marketing Director
Moodlerooms, Inc.
1101 East 33rd Street
Baltimore, Maryland 21218
Office: 443-451-7218
# # #