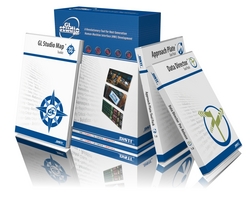 The Data Director represents a new level of reuse and interoperability for content built with GL Studio
Orlando, FL (PRWEB) December 1, 2008
The DiSTI Corporation, a global leader in Human Machine Interface (HMI) development, today announced the development of a new product called the DiSTI Data Director. The Data Director is an ideal tool for the Human Factors and Prototyping communities who wish to quickly connect instrumentation to physical data models in an easy to use GUI environment. The technology originated as part of DiSTI's virtual maintenance trainer production cycle to manage data assets. Development into this commercial product has been driven by the automotive industry where there is a need to seamlessly connect multiple data sources, such as math models or simulation data to user interface objects, with no programming.
The Data Director includes a library of common instrument types for out-of-the-box integration into user layouts using a drag-and-drop methodology. Users can extend the instrumentation library by purchasing additional RSO bundles from DiSTI or utilize content built with GL Studio.
Data interoperability modules are loaded via a plug-in architecture. The interoperability modules serve as the bridge to connect the properties available in the instrumentation to the simulation parameters. The connections are made in the Data Director GUI without writing any application code.
Standard data converters are available to manipulate data values passing through the Data Director. When connecting asset data attributes within the GUI users can configure the type of converter associated with the connection. These converters allow the Data Director to handle disparities between simulator values and the instrumentation such as unit conversions.
The Data Director includes a software development kit which enables users to embed Data Director configuration files into deployable user applications and create custom converters and importers.
"The Data Director represents a new level of reuse and interoperability for content built with GL Studio," said Darren Humphrey, Chief Technology Officer. "Users can now prototype simulation environments with just a few clicks of a mouse; no coding required."
About DiSTI
DiSTI is a global leader in the development of Human Machine Interface software for businesses, governments and the military. The company's flagship products, GL Studio and GL Studio for Java, enable programmers and developers to build high-fidelity graphics, 3D simulations and fully interactive controls into their models, enhancing the level of realism and sophistication, while improving learning and retention.
More than 400 customers worldwide including BAE Systems, Boeing, FedEx, Lockheed Martin, Honeywell, Raytheon and Thales use DiSTI solutions to build maintenance trainers, create PC and Internet-based courseware and to develop components for safety-critical applications. As a full service provider, DiSTI offers a complement of custom programming and development services, and is the recognized leader in training solutions for the global simulation and training community. For more information, visit http://www.disti.com.
###