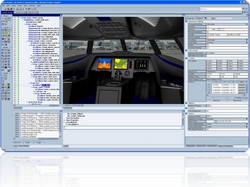 Our global success stems from a loyal customer base built from a corporate mantra to always do what is right for the customer by delivering products that meet their demands
Orlando, FL (PRWEB) February 2, 2009
The DiSTI Corporation, a global leader in Human Machine Interface (HMI) development, today announced the release of GL Studio 4.0. This major release of GL Studio features numerous product enhancements geared at greater ease-of-use and productivity for the developer, higher performance of the deployed application, and better overall value to the customer. This release is the culmination of a yearlong software development effort to re-architect the GL Studio Developer interface based on customer feedback and prevailing user interface design trends. The result solidifies DiSTI's position as a leading provider of graphical user interface technology to the aerospace, defense, automotive, manufacturing, and medical communities.
"Our global success stems from a loyal customer base built from a corporate mantra to always do what is right for the customer by delivering products that meet their demands," said DiSTI President Joseph Swinski. "Many of our customers have been users of GL Studio since version 1.0 and routinely recommend us to other colleagues and professionals."
In addition to the interface upgrades, GL Studio 4 now includes over 30 generic instruments covering a variety of application types from speedometers to keypads and nearly 300 common user interface texture elements. This content, coupled with a new tutorial that illustrates how to develop advanced 3-D graphical interface designs, delivers an unparalleled out-of-the-box user experience.
In May 2000, DiSTI released a revolutionary new toolkit for graphical interface development called GL Studio. It was the first toolkit of its kind to apply the power of object-oriented C++ code generation to the challenges of graphical interface application development and it quickly gained traction within the military simulation and training community.
Eight years later, GL Studio is now the gold standard for projects demanding rapid development of high performance graphical interfaces produced in human readable object-oriented coding formats. From the small niche community of military simulation and training, GL Studio is now being used by major manufacturers of automobiles, aircraft, space vehicles, and medical equipment for uses ranging from prototyping to embedded safety critical displays.
The new features for GL Studio 4.0 are as follows:

A Unified Dockable Window Architecture
A New Look and Feel with the New FLTK Upgrade
Improved 3D Navigation
o Middle Mouse Click and Drag to Pan
o Mouse Wheel Zoom

Customizable Design Layouts
Improved 3D Studio Max® ASE Importer
GlsMutex - A New Mutually Exclusive Container
GlsNinePatch - For the Creation of Resizable Objects with Rounded Corners
GlsPolyLine - A New Polygonal Line for Lines with Halos and Scalable Line Thickness
GlsObjectAdjuster - Quickly adjust the Translation in the X, Y, Z Axis and the Heading, Pitch and Roll Rotation of Objects and Eyepoints
1-4 View Graphical Layout System
IDE Style Code Entry
Color Syntax Highlighting
Consolidated Object Properties Layout
Use of Display Lists for GlsTriMesh Objects for Improved Performance
Improved File Loading Times
Support for Visual Studio 2008
About DiSTI:
DiSTI is a global leader in the development of Human Machine Interface software for businesses, governments and the military. The company's flagship products, GL Studio and GL Studio for Java, enable programmers and developers to build high-fidelity graphics, 3D simulations and fully interactive controls into their models, enhancing the level of realism and sophistication, while improving learning and retention.
More than 400 customers worldwide including BAE Systems, Boeing, FedEx, Lockheed Martin, Honeywell, Raytheon and Thales use DiSTI solutions to build maintenance trainers, create PC and Internet-based courseware and to develop components for safety-critical applications. As a full service provider, DiSTI offers a complement of custom programming and development services, and is the recognized leader in training solutions for the global simulation and training community. For more information, visit http://www.disti.com.
###