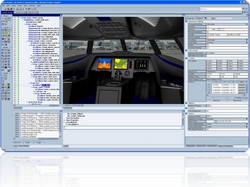 Because DiSTI is continually dedicated to meeting and exceeding the needs of our nation's military, it is an immense honor to be recognized in MT2's annual list of top companies
Orlando, FL (PRWEB) October 6, 2009
DiSTI, a global leader in Human Machine Interface (HMI) development, has recently been selected among the top Military Simulation & Training companies by Military Training Technology (MT2) Magazine. This award marks the third consecutive year that DiSTI has received this honor.
In addition to the Top Company honor, DiSTI also received a Blue Ribbon Industry Innovator distinction, which is given to those companies that have made the most significant and innovative contributions to the training community. Warranting this accolade, DiSTI's innovative GL Studio v4.0 was released in February, offering greater ease-of-use and productivity for the developer, higher performance of the deployed application, and better overall value to the customer. Indeed, GL Studio v4.0 customers have praised its modern user interface, additional productivity tools and supplementary pre-built content.
MT2's eighth annual Top Training & Simulation list recognizes the top global companies that have made an impact on the military training industry across the technology spectrum, including live training, constructive simulation, modeling, and virtual simulation. Each year, individual ribbons are awarded within the categories of Best Programs, Up and Coming, High Revenue and Innovation.
Of over 300 companies evaluated by both MT2's editorial staff and a panel of independent training and simulation experts, DiSTI was among 85 distinguished finalists. Of these finalists, only 14 received the Industry Innovator ribbon. Companies were selected based on various criteria, including total military sales, innovation, and program effectiveness.
"Because DiSTI is continually dedicated to meeting and exceeding the needs of our nation's military, it is an immense honor to be recognized in MT2's annual list of top companies," remarked DiSTI President Joe Swinski. "MT2 is a fantastic publication committed to highlighting military training as an essential piece of command readiness. We look forward to maintaining our standing among these prominent organizations and providing innovative and dynamic training capabilities."
Published by Kerrigan Media, Military Training Technology focuses on military training as a critical component of command readiness and service transformation. The Top Training and Simulation list can be viewed online here.
About DiSTI:
DiSTI is a global leader in the development of Human Machine Interface software for businesses, governments and the military. The company's flagship product, GL Studio, enables programmers and developers to build high-fidelity graphics, 3D simulations and fully interactive controls into their models, enhancing the level of realism and sophistication, while improving learning and retention.
More than 400 customers worldwide, including BAE, Boeing, Dassault, FedEx, Lockheed Martin, Honeywell, Raytheon and Thales use DiSTI solutions to build maintenance trainers, create PC and Internet-based courseware and to develop components for safety-critical applications. As a full service provider, DiSTI offers a complement of customer programming and development services, and is the recognized leader in training solutions for the global simulation and training community. For more information, visit http://www.disti.com.
###