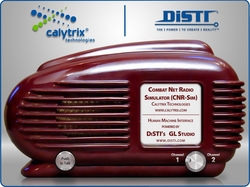 Users will enjoy graphical control of their simulated radio communications
Orlando, FL (PRWEB) December 16, 2008
The DiSTI Corporation, a global leader in human machine interface (HMI) software development tools and creators of GL Studio, announces a graphical radio interface for Calytrix Technologies' Combat Net Radio Simulator (CNR-Sim). Calytrix' CNR-Sim is a low cost multichannel radio simulator for Windows or Linux based computers. Free CNR-Sim is a 2-channel version of CNR-Sim that Calytrix provides to users for free. DiSTI's produced a 2-channel interactive graphical radio panel, using GL Studio, as a free add-on for use with Free CNR-Sim.
CNR-Sim's new application programmer's interface (API) served as the method to which DiSTI connected the radio panel with the network radio simulator. The result demonstrates how customers can easily combine GL Studio graphical content and CNR-Sim to simulate user specific radios.
"Users will enjoy graphical control of their simulated radio communications," said Damon Curry, International Sales Manager for Calytrix Technologies. "Calytrix is very pleased to join with DiSTI in our combined free simulated radio offer."
"The most often neglected element in a communication application is the human interface; but not this time," said Scott Ariotti, DiSTI's Director of Sales and Marketing. "With the combined solutions of Calytrix and DiSTI users can easily couple a high-end radio simulator to a compelling user interface."
About DiSTI:
DiSTI is a global leader in the development of Human Machine Interface software for businesses, governments and the military. The company's flagship products, GL Studio and GL Studio for Java, enable programmers and developers to build high-fidelity graphics, 3D simulations and fully interactive controls into their models, enhancing the level of realism and sophistication, while improving learning and retention.
More than 400 customers worldwide including BAE Systems, Boeing, FedEx, Lockheed Martin, Honeywell, Raytheon and Thales use DiSTI solutions to build maintenance trainers, create PC and Internet-based courseware and to develop components for safety-critical applications. As a full service provider, DiSTI offers a complement of custom programming and development services, and is the recognized leader in training solutions for the global simulation and training community. For more information, visit http://www.disti.com.
About Calytrix Technologies:
Calytrix is a solutions company established in Perth, Western Australia in 2001. The three main product lines produced by Calytrix include; Calytrix Combat Net Radio Simulator (CNR-Sim), Calytrix Live Virtual Constructive Game (LVC Game), and Calytrix Mentor™. The software is standards-based with open APIs to facilitate product integration into customer specific environments.
In March 2003 Calytrix opened an office in the United States to establish a direct sales and marketing presence in one of our largest markets. Calytrix has established customers in the UK, US, New Zealand, China, Canada and France.
Calytrix R&D is at the forefront of current software thinking and their engineering team understands the importance of balancing innovation and elegance with practical experience. Calytrix invests approximately 30% of annual revenues into product related research and development in order to stay at the forefront of development in the simulation and training sector.
http://www.calytrix.com/
###