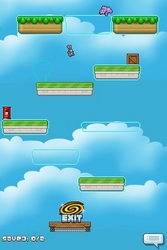 Sheffield, UK (PRWEB) April 2, 2009
Distinctive Developments Ltd are overjoyed to announce that their quirky puzzle game 'Flip Zoo' has just been launched on the Android Market. Warren the rabbit and the rest of the crew of PETZ (Planet Earth's Traveling Zoo) engaged warp drive to arrive on this new world where they hope to make lots of new friends.
Flip Zoo is a unique puzzle game where you save a variety of animals by the power of turning platforms on/off with a single touch of the screen. Guide the animals to the exits to save them from dying in a number of terrible ways. The game features 66 fiendishly designed levels, one-touch control system, tutorials, a level editor to create you own levels and the funkiest music this side of the crab nebula.
As a long time mobile games developer Distinctive are committed to supporting multiple mobile platforms. They launched the iPhone version of the game on 28th January where it has received 5 star customer ratings.
The game is on sale on both iPhone and Android at a great price of £1.20 or $2.00
Nigel Little, managing director of Distinctive, said 'The team and I are excited to bring this great puzzle game to a new audience on Android. I'm sure the game will give people many hours of brain teasing fun.'
For more details see Distinctive's Website
About Distinctive
Distinctive are a mobile and social games creator headquartered in Sheffield, UK with offices in Poland and San Diego. Founded in 1994 as a console games developer and then switching to mobile games development in 2001 they have created some of the most popular mobile games available. Their clients and partners include the biggest names in the industry, such as Electronic Arts, Eidos, Konami and NAMCO. In addition to developing games for major publishers Distinctive develops it's own range of intellectual property. In 2008 Distinctive launched their first social game on Facebook called Anytime Pool.
###