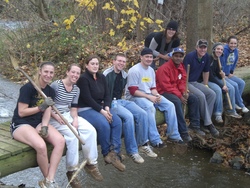 Our team at Distinctive Solutions does lots of philanthropy, such as soup kitchens and canned food drives
Timonium, MD (Vocus) December 1, 2009
Distinctive Solutions, a privately-owned marketing firm, recently volunteered for ten hours to the Chesapeake Bay Foundation, which fights for bold and creative solutions to the pollution that plagues the Bay and its tributaries.
Twenty staff members from Distinctive Solutions participated in three separate events for the Save the Bay Foundation in locations including Cambridge, Southern Maryland, and Fredrick. The Distinctive Solutions staff planted more than 500 trees at each location, with the office contributing to more than 300 trees.
Distinctive Solution's goals were to plant trees, shrubs, willow and dogwood stakes along the streams to save the bay, which helped prevent erosion along the banks so that the streams dropping into the bay could be clean and populated with wildlife. This also helped to reduce storm water, remove CO2, and cleaned the air.
Distinctive Solutions chose the Chesapeake Bay Foundation since many staff members grew up around the bay – many spent their childhood taking part in the many recreational activities the site had to offer.
"Our team at Distinctive Solutions does lots of philanthropy, such as soup kitchens and canned food drives," said President Eric Chapman. "The crew is always willing to donate time and money to help the local community. We would like future generations to continue to enjoy the recreation and wildlife that we've all grown to love and enjoy."
About Distinctive Solutions
Distinctive Solutions, Inc is a privately owned company that performs outsourced sales, client acquisition, and retention for Fortune 100 companies. Distinctive Solutions meets with their clients' small and medium size customers. Distinctive Solutions' personal approach to marketing and sales has had a success rate that distinguishes the company from other forms of marketing. Their face-to-face marketing and sales approach is personal, effective, and produces results. For more information, contact Eric Chapman at (410) 252-6430 or log on to http://www.d-baltimore.com.
###