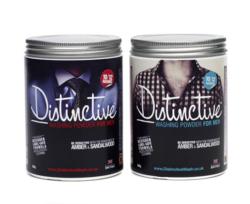 So forget about spraying half a bottle of scent all over your clothes before you go out, now you can simply wash and go and be safe in the knowledge that if anyone gets close you'll smell amazing.
(PRWEB UK) 24 October 2012
Entrepreneur Louise Knowler saw a gap in the market for a laundry product aimed specifically at men. Seizing the opportunity to revolutionise the way men wash their clothing Louise brought something new and very Distinctive to the market.
Louise said: "I have created a washing powder that for men, that enables men to easily throw a mixed load of fabrics in the machine and have their washing come out smelling manly without the need to spray excess aftershave all over their clothes before going out.
"Whilst working for a mainstream laundry brand I came across countless men who wanted a laundry detergent to smell manly. Existing laundry products smell floral and feminine or with the scent of rain at best. We also discovered blogs from men who had experimented with adding drops of their favourite aftershave to their load of washing or even sprayed shaving foam into the machine in the hope it would leave their clothes smelling fresh and manly but results were disastrous leaving white powdery stains a little like a bad deodorant on a black t-shirt."
Louise soon realised the way to avoid washing calamities was to create something completely new and after being challenged by the laundry company she was consulting for to give it a go Louise began researching.
She said: "The company I was I was engaged by to review branding and packaging thought it was an impossible concept, having the old fashioned belief that men really can't or won't do laundry and housework.
"What I found when we started researching it was that the modern man is as adaptable as modern woman, and the high achievers amongst us take as much pride in their immaculate homes and personal appearance as they do their highflying careers."
What's the groundbreaking product?
So Louise found a solution - a biological designer label safe formula with the addition of a masculine seductive fragrant blend. The detergent doesn't contain optical brighteners, (UV dyes which affect the appearance of fabric by absorbing light to change the appearance of clothing) which are not only are bad for the environment and harsh on sensitive skin, but can also leave your clothes looking faded in comparison to when they were originally bought.
The Protease enzyme is activated at temperatures of just 30 degrees so it's also environmentally friendly and energy saving while still giving a really deep clean and removing even the toughest manly stains.
After cleaning away dirt and stale odors, the fab-fixing base (their magic ingredient – Ambergris) acts like a microscopic sticky bud by fixing itself onto clothes to catch the fragrance molecules as they whizz round the machine. Helping the Distinctive scent of amber and sandalwood last longer.
Louise says: "So forget about spraying half a bottle of scent all over clothes before you go out, now you can simply wash and go and be safe in the knowledge that if anyone gets close you'll smell amazing.
"Unfortunately the scientists who wove their magic to create the Distinctive formula haven't quite worked out how to make do without the iron, you will still need to do that bit – but you'll look clean and smell great!"
Distinctive™ has been trademarked as has the strapline 'Your dirty laundry is our little secret' and a number of high end retailers are currently looking at the product with the White Island clothing label already trading with them.
Distinctive is not only kind to skin but also kind to animals and the water supply. It is phosphate free and already complies with the 2015 laundry regulations whilst many main stream brands do not. They have a desire for environmental options where possible and the product has been put through rigorous sensitivity tests and has only been tested on humans.